Welcome to Marquette Academy!
Download the New Family or Incoming Freshmen Welcome Packet
---
Children's Choir
Does your child like to sing? Consider St. Cecilia Children's Choir
This Choir is a program run by the Ottawa Catholic Parishes music ministry team.
It is free to join and open to boys and girls in Grades 2 – 8 throughout the Ottawa community.
The first practice is Wednesday September 28 from 3:30 – 4:30pm in St Columba Church and will be every Wednesday thereafter.
After Care is available for Academy students from 2:30 – 3:30pm at $5.00 per child.
The children will sing for a Sunday Mass once a month.
For more information, please online access www.ottawacatholic.org (choose 'Liturgy' tab)
Choir Mission and Goals
I would be happy to speak with you. Please contact:
Mrs. Joanie Resendiz, Music Director
815.546.5602
joanne.resendiz@gmail.com
---
Uniform Polo Order Form
The required uniform for all high school students is any color pants/shorts (no jeans or cargo pants) and a polo shirt with the MA logo. You can download and return the polo order form (below) to Diane Whalen in the Advancement Office, with a check made out to 'Identities'.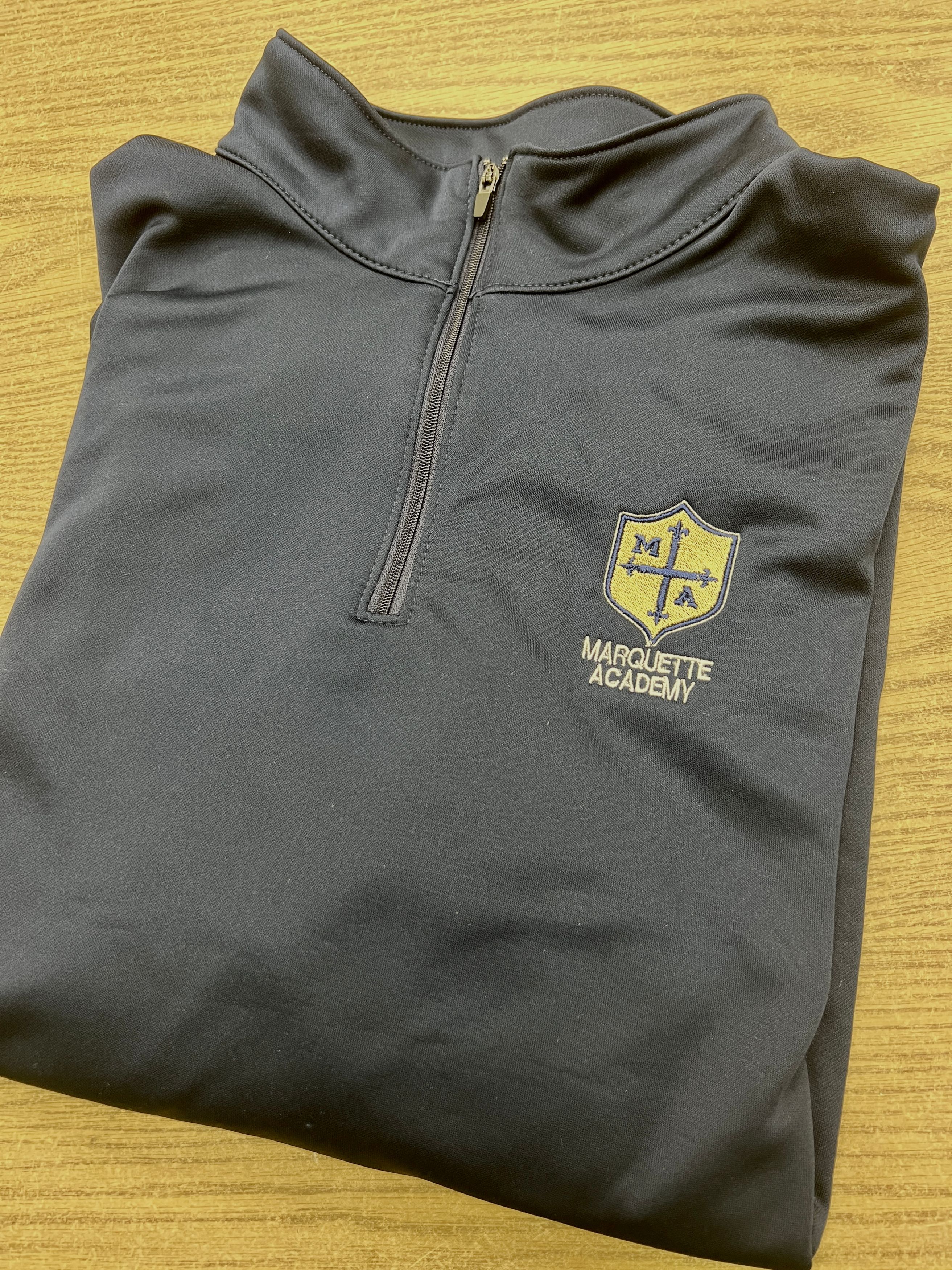 NEW this year! All students can order a navy 1/4 zip pullover with the MA shield and Marquette Academy embroidered on the chest to wear as part of their uniforms. Samples are available to view in the Advancement Office.
(Please note: Uniform polo shirts take 2 weeks to process as they are custom ordered. Make sure to order soon so your child can be in dress code on the first day of school)
---
We offer After Care for all preschool and elementary students until 5:00pm for working parents. Please contact the Elementary Campus at 815-433-1199 for details.
---
Parents of Incoming Freshman: We understand that making the transition into high school is a big one. At Marquette Academy we strive to make your child's experience one of the best decisions of their life. We encourage everyone to get involved in as many activities as possible and get to know the Marquette family! Please browse our website for all the information you may need. Keep checking your emails and TeacherEase for the latest updates. If you have questions or need additional information, please contact our office at 815-433-0125.
---
CAMPUS INFORMATION
PreK and Elementary Campus
1110 LaSalle Street
Ottawa, IL 61350

815.433-1199
High School Campus
1000 Paul Street
Ottawa, IL 61350
815.433.0125
---
QUICK LINKS
Tuition Assistance / Scholarships
You will find information about GS and HS Dress Code on page 36 of the MA Handbook. There are Polo Shirt Order Forms in the Advancement Office for High School students. Grade school students can wear khaki or navy pants/shorts (no cargos) and a white or navy polo (no logos on the shirt).
SCRIP (lower your tuition by using SCRIP!)
---
JOIN OUR SOCIAL COMMUNITY!
On our Social Media pages you will find a wealth of information on the life of our students, activities coming up, and great accomplishments of our students and staff. It is a great way to stay connected!
To join our email list and get all the latest news and information about upcoming events click here.
---
GET INVOLVED!
There are many ways to get involved at Marquette Academy. We have a variety of fun events for families to get to know each other while benefiting our school. Keep checking the calendar, social media and your emails to stay in the loop.
The Advancement Office is responsible for fundraising and is a benefactor to the future of Marquette Academy by establishing relationships with current, future, and past members of the Marquette Academy through fundraising activities such as the annual fund, scholarship programs, planned giving programs, grants, foundations, alumni, programming and student recruitment and admission. We are always looking for volunteers to help in these endeavors. If you would like to help please fill out this short form.
The Marquette Academy Booster Club (Grade School) and Go Club (High School) are responsible for all funding for our School Athletics and all things associated with sports. To learn more about the Booster Club click here. To learn more about the Go Club click here.
---
Thank you for joining the Marquette Family!