Latest News at Marquette Academy
September 11, 2023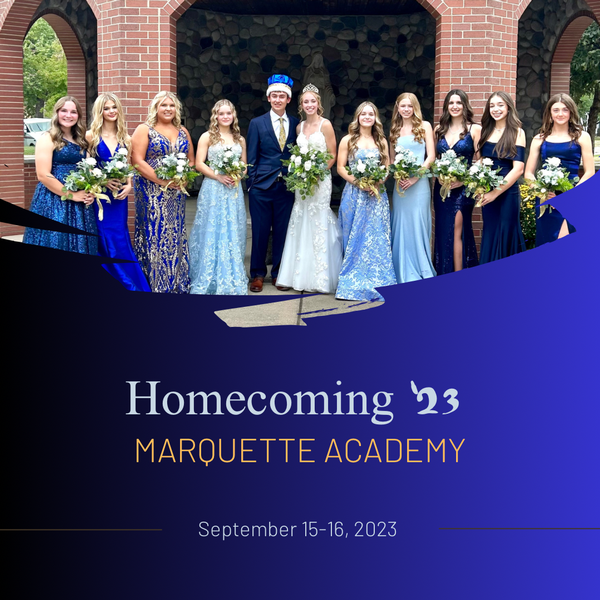 HOMECOMING WEEK 2023
" The Magical Marquette Kingdom" - Disney
---
Congratulations to the 2023 MAHS Homecoming Court!
Freshmen attendants: Hunter Hopkins, Bobbi Snook
Sophomore attendants: Delaney Puleo, Serenity Guzman
Junior attendants: Keely Nelson, Makayla Backos, Caleigh Rick
Senior attendants: Emma Rinearson, Nora Rinearson
Queen: Lilly Craig
King: Daniel Hoffman
---
Monday, September 11th - Mass Day
*All Academy Mass Schedule 10:00 Mass
Students will be in normal dress code for mass day
Volleyball Home vs Indian Creek 7:00 (Varsity)
Golf @ Dwight 4:15
---
Tuesday, September 12th – Class Distinction Day
SIP Schedule with 2:15 release
Class Distinction Day
*Classes 1-4 in the morning with Door Decorating beginning during advisory.
Freshmen – Disney Babies
Sophomores – Disney Sidekicks
Juniors – Disney Villains
Seniors – Disney Heroes
Cross Country @ LP 4:30
---
Wednesday, September 13th – Parade and 4- Way Volleyball
Disney Theme Park Day
Seniors - Hollywood Studios
Juniors - Magic Kingdom
Sophomores - Animal Kingdom
Freshmen - Epcot

Classes 6,7,8 in the morning * Advisory in the morning after 8th
*Please note IVCC classes will still run 1st period
4-Way Volleyball will begin after advisory/ Lunch periods.
Homecoming Parade 5:30pm
The parade route begins at MAHS and travels west on Washington St., south on LaSalle St., west on Main St. and back north to MAHS on Columbus St. Celebrate with the Marquette family at JJ's Pub after the parade with a delicious Polancic's tenderloin!
---
Thursday, September 14th - Field Day
Classes 1-4
Advisory periods will be adjusted to accommodate Lunch.

Class Color Day & Field Day
Seniors- Tye Dye Blue
Juniors- Light Purple
Sophomores- Coral
Freshmen- Gray
Volleyball Home vs Seneca 7:00 (Varsity)
---
Friday, September 15th – Pep Assembly Blue & Gold Day
Warm Weather Schedule 2:15 Pep Assembly
Door Judging at 3:00pm
Homecoming Football Game Home vs Westmont 7:00pm
* Homecoming Court presented at Halftime
Meet across from the entrance at Gould stadium from 4-6pm. Pregame with Marquette alumni, family & fans. Enjoy food from the Bertha Food Truck, purchase drinks, raffle tickets, spirit wear, Homecoming Mums and more! Special performance by the Crusaderettes and Cheer squad. Cheer on the CRU for the big Homecoming game vs. Westmont – kick-off is 7pm at Gould Stadium.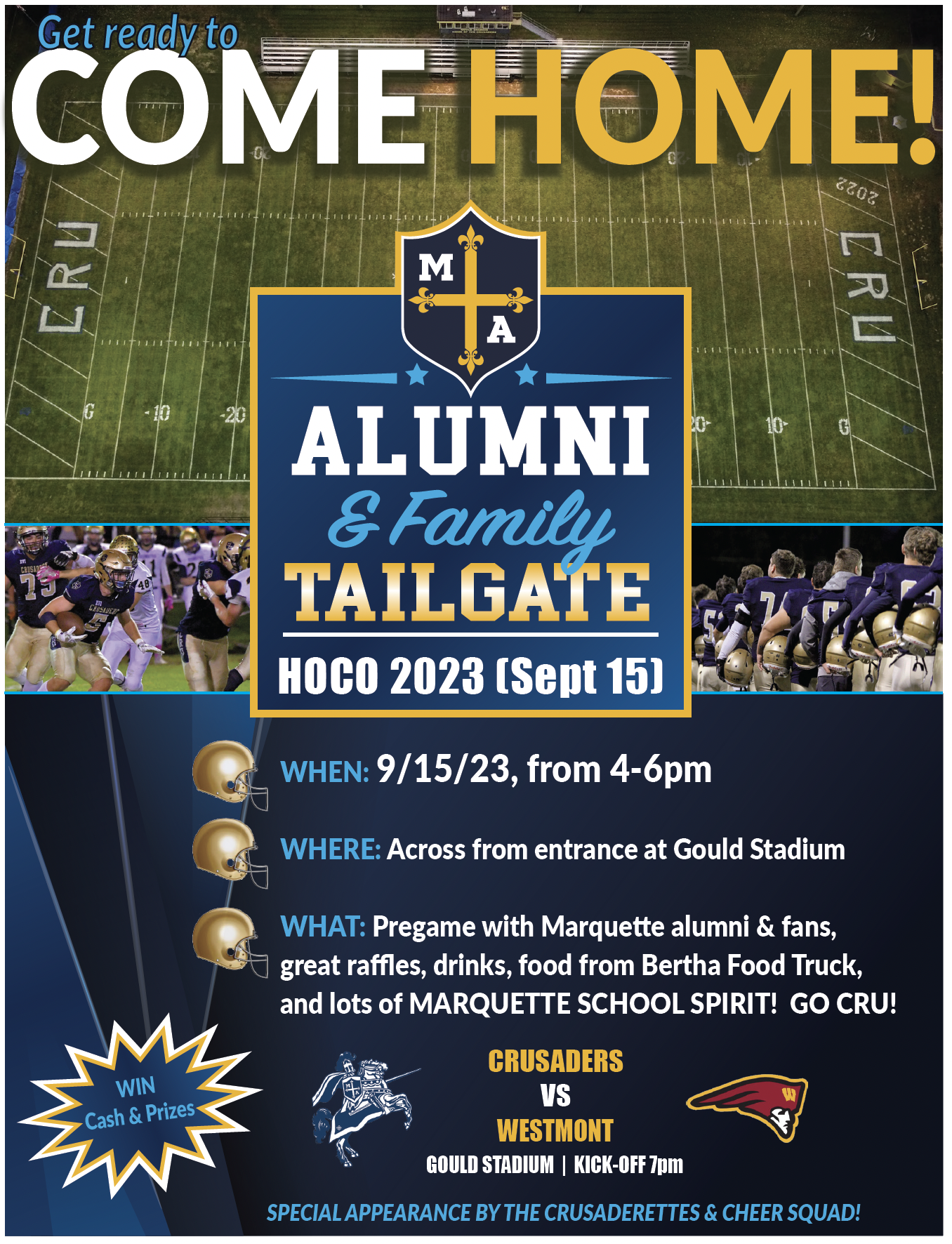 ---

Saturday, September 16th –
Homecoming Dance 7:00pm in Bader Gym
January 23, 2023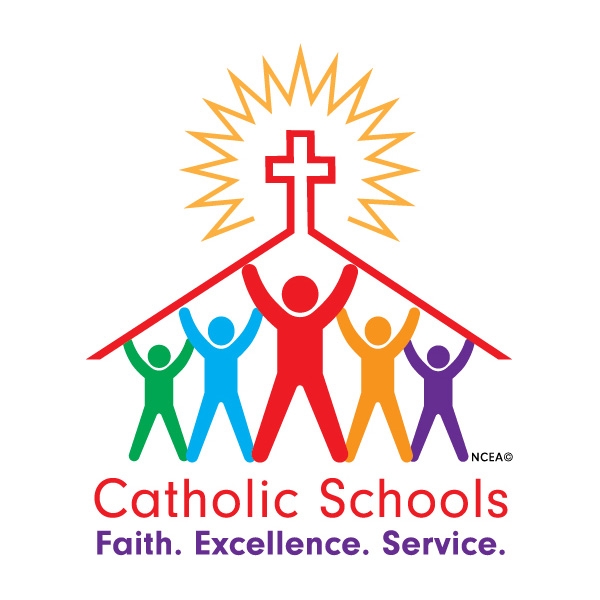 Marquette Academy Celebrates Catholic Schools Week!
January 29 - February 3
Sunday January 29th – Parent Appreciation Mass
Parent Appreciation Mass 9:00am St Columba Church
Monday January 30th – A Day of Thanks
Students will write thank you cards to family and community members
All Academy Mass 10:15 at St Columba Church

Grade School & Pre School – Blue and Gold Day
High School – Free Jeans day with Marquette top.
Tuesday January 31st –
Grade School & Pre School – Class Color Day
Drop Everything and Read Day

High School – Jeans/Sweat Day (Must have on a Marquette Top)
Senior Class Appreciation Day Event
Wednesday, February 1st – Teacher Appreciation Day
Teacher Appreciation luncheon Both Campuses
Grade School & Pre School – Wacky Wednesday
Spelling Bee K-8
High School - Jeans/Sweat Day (Must have on a Marquette Top)
Junior Class Appreciation Day Event
Thursday, February 2nd – Volunteer Appreciation Day
Grade School & Pre School – Pajama Day
No Homework Day
High School - Jeans/Sweat Day (Must have on a Marquette Top)
Volunteer Appreciation Luncheon 11:00-1:00 Advancement Office
Sophomore Class Appreciation Day Event
Friday, February 3rd
Grade School & Pre School –Sports Day
Student Appreciation Day Treats in the afternoon
8th Grade vs Staff Beach Ball Volleyball TBA
High School - Jeans/Sweat Day (Must have on a Marquette Top)
Freshmen Class Appreciation Day Event
September 09, 2022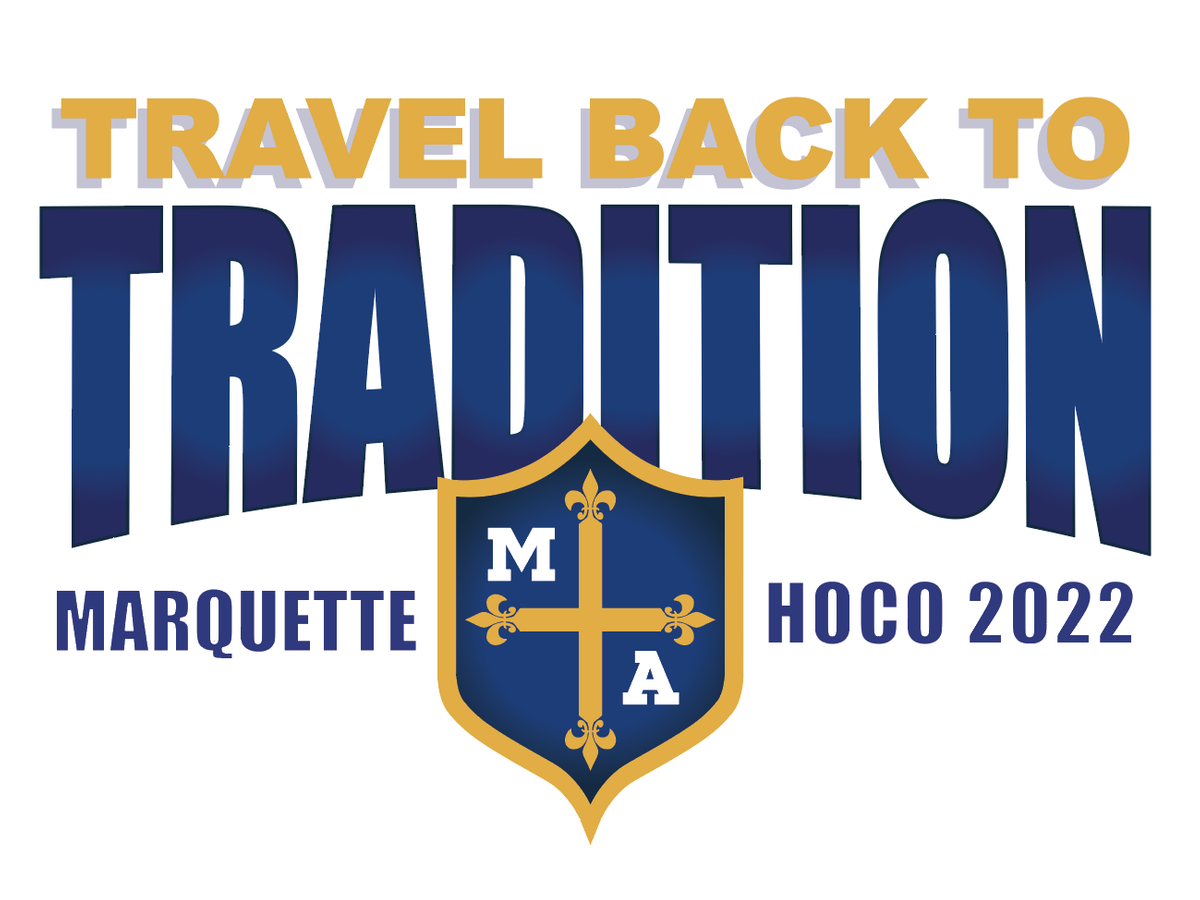 HOMECOMING WEEK 2022
Travel Back to Tradition

Monday, September 12th - Mass Day
Homecoming Court Pictures 1:00
*All Academy Mass Schedule 10:15 Mass
Students will be in normal dress code for mass day
Tuesday, September 13th – Class Distinction Day
SIP Schedule with 2:15 release
Class Distinction Day
Freshmen - 50's/60's
Sophomores – Sophomores 70's
Juniors – 80's
Seniors – 90's

Wednesday, September 14th – Parade Day/Time Warp Wednesday
*Classes 1-4 in the morning with afternoon Door Decorating
Time Warp Wednesday (Dress as your favorite former Crusader)
Homecoming Parade 5:30pm
Nonfire/Bonfire Rally & Cookout on the Practice Field 6:00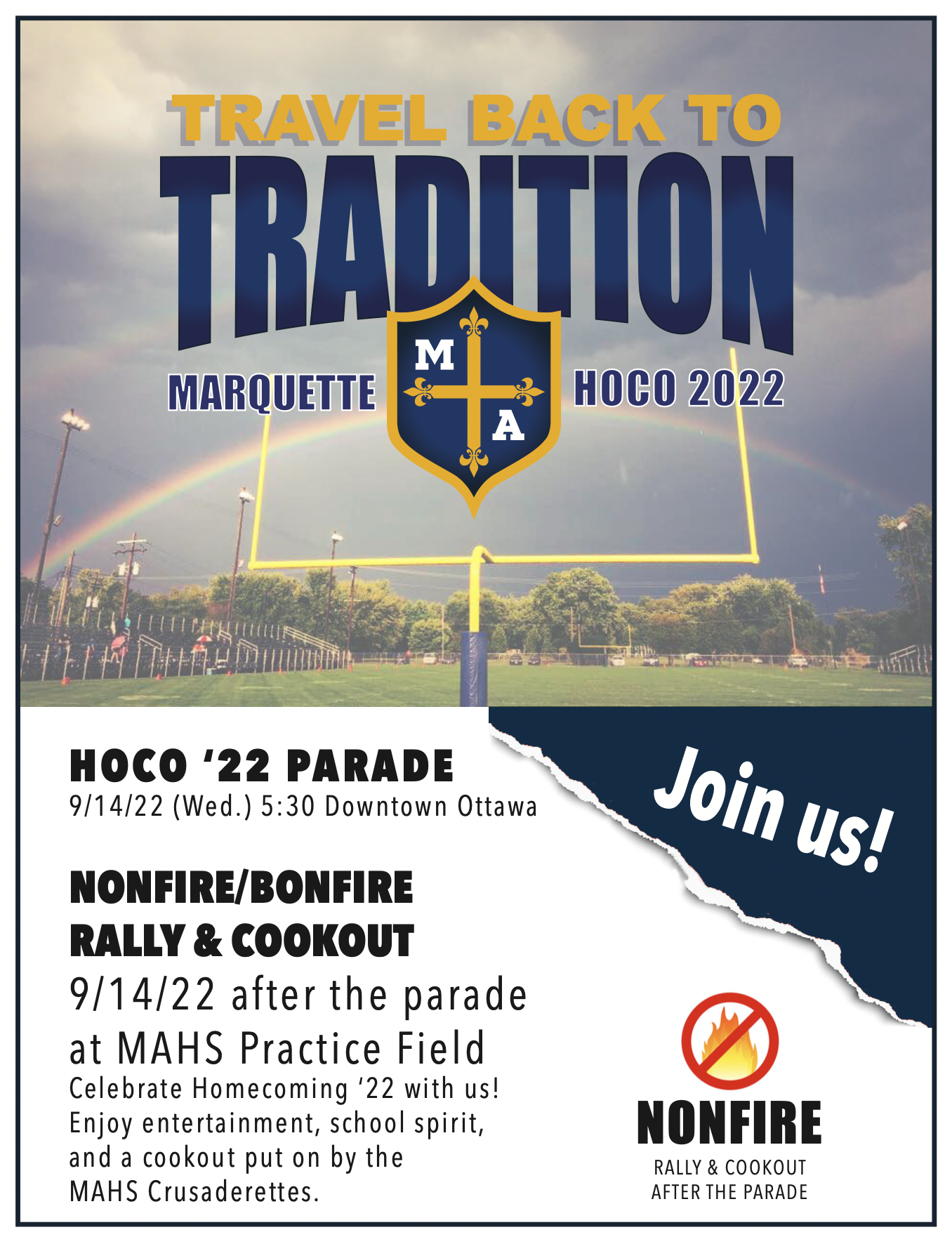 Thursday, September 15th - Field Day
Classes 5-8 will run in the morning.*1st Hour will be IVCC Classes
Students will report to Homeroom at 11:30 during Lunch hours
Class Color Day & Field Day
Seniors - Tie Dye Green
Juniors - Purple
Sophomores - Hot Pink
Freshmen - Gray
Friday, September 16th – Pep Assembly Blue & Gold Day
Warm Weather Schedule 2:15 Pep Assembly
Door Judging at 3:00pm
Saturday, September 17th –
Homecoming Dance 7:00pm in Bader Gym