Latest News at Marquette Academy
January 19, 2021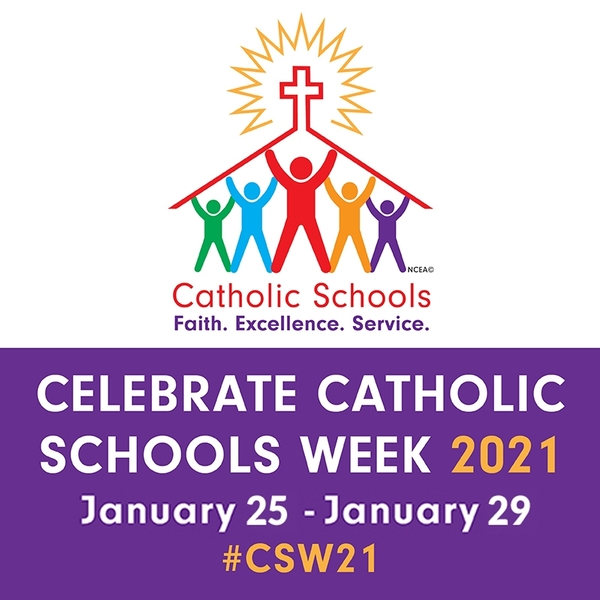 Catholic Schools Week January 25th - 29th
A message from Mrs. Rick:
"One of the big initiatives of Catholic Schools Week will be about giving back.
As in-person learning resumed in January, classes will write thank you cards and letters to frontline workers, including hospital staff, local firefighters, police, and the local veterans' home and nursing home. This endeavor is aimed at thanking those in our community and recognizing their daily sacrifices, while also spreading some additional goodwill and cheer.
We try to teach the students about community and giving back during activities for the week.
We will also have some fun activities in school for students and teachers to celebrate their hard work and accomplishments during this challenging year."
---
CSW 2021 Schedule
Monday, January 25th
High School:
Free Jeans or sweatpants day (Must have MA top) & Day of Thanks
Grade School:
Blue and Gold Day & Day of Thanks
Preschool: Preschool
Blue and Gold Spirit Day & Day of Thanks
Tuesday, January 26th
All Academy:
Teacher appreciation Luncheon at both campuses

High School:
Chapel Mass schedule
Free Jeans or sweatpants day (Must have MA top)
Student Appreciation - Freshman
Grade School:
Dress Down Day - Western Day
Drop Everything and Read Time
Preschool:
Western Day Dress
Wednesday, January 29th
High School:
Free Jeans or sweatpants day (Must have MA top)
Student Appreciation - Sophomores
Grade School:
Wacky Wednesday Dress Down
Spelling Bee in classrooms
Preschool:
Wacky Wednesday Dress
Thursday, January 30th
High School:
Free Jeans or sweatpants day (Must have MA top)
Student Appreciation - Juniors
Grade School:
Pajama Day - No Homework Day
Teacher choice - FUN Classroom activity
Preschool:
Preschool Registration is Open
Pajama Day Dress
Friday, January 31st
All Academy:
Student Appreciation Day both campuses

High School:
Free Jeans or sweatpants day (Must have MA top)
Student Appreciation - Seniors
Grade School:
Sports Day Dress, Super Bowl Snack after Lunch followed by movies in classrooms
Preschool: Preschool Registration is Open
Sports Day Dress and Super Bowl Snack followed by a movie
November 13, 2020
Update:
Dear Marquette Academy Families,
Please read this important information sent to us by the Office of Catholic Schools in conjunction with the Bishops office.
Dear School Pastors, Chaplains, Principals and Families,
After discussion and a review of data and information regarding the escalation of the positivity and exposure rates for COVID19 in Illinois during the next few weeks, I have been directed as the Superintendent of Schools to share the following information with your school communities as approved by Most Rev. Daniel R. Jenky, CSC and Most Rev. Louis Tylka, Bishops of Peoria:
Effective Monday, November 16, 2020, the 42 elementary and secondary schools in the Catholic Diocese of Peoria will shut down and deliver instruction via remote learning only.
This entire system shut down will be through January 18, 2021 with a return to in-person or remote instruction on Tuesday, January 19, 2021.
While our school buildings are closed, principals should make arrangements to thoroughly disinfect and sanitize all areas within the schools.
Principals and teachers may be present in their offices and classrooms to facilitate remote-only instruction during the system shutdown.
While in the building, principals and teachers must observe all public health department mandates in order to mitigate the spread of the coronavirus including wearing masks at all times; washing hands frequently; checking temperatures throughout the day; and observing social distancing of more than 6 feet when interacting with other teachers in the building.
Children will not be allowed in the building during this time, including children or grandchildren of teachers and principals. If teachers or principals are limited in finding childcare for young children, they must administer or teach from home.
Preschool and prekindergarten classes will be delivered remotely; however, if parents/guardians choose to withdraw their child(ren) from these classes, tuition & fees may be refunded during this time of shutdown or applied as credit toward the individual family accounts until January 19, 2021 with the re-opening of our school buildings.
Principals will coordinate with their faculty and families and publish guidelines for the distribution of school computer laptops, grading, and assignments that must be picked up from and returned to the school. These individual school procedures and protocols should be published and shared with families as soon as possible.
As this is a system-wide shutdown, there will be no sporting or extracurricular events scheduled at the school. These activities may resume on January 19, 2021 following IESA and IHSA guidelines as approved by the Illinois Department of Public Health via the Office of the Governor.
The Bishops of Peoria and Office of Catholic Schools understand the many challenges that confront our school pastors, chaplains, principals, teachers, staffs, students and families with the issuance of this most recent guidance. However, the safety and health of our school personnel and students is first and foremost what ultimately factors into this most difficult of decisions.
"May the Lord bless you and keep you; may He make His face shine upon you, and be gracious to you; may He lift up His countenance upon you, and give you peace. Amen."
Dr. Sharon Weiss
Superintendent of Schools
Catholic Diocese of Peoria
As a result of the information below Marquette Academy will NOT have school on Monday November 16th instead we will be having a Teacher In-service Day to prepare for Virtual Learning. Virtual Learning will begin on Tuesday November 17th. More information regarding the Virtual learning schedule and plan will be released shortly.
Respectfully,
Brooke Rick
August 19, 2020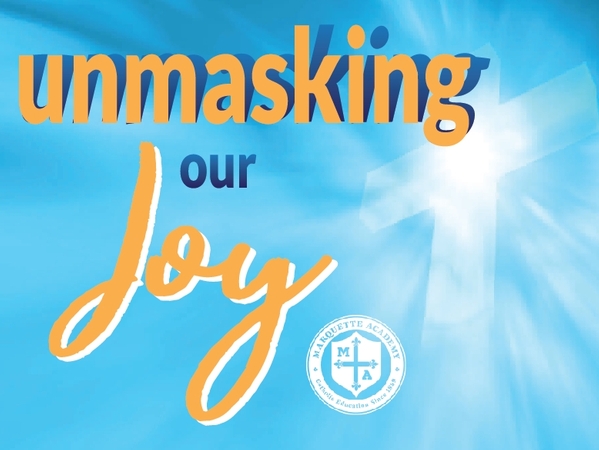 As we begin a new school year, full of challenges we have never faced before, I am sure there is a lot of concern, worry, and fear. I am feeling all of those things as well. Nobody knows what the future will bring, and I am no prophet, but I can almost certainly predict it will involve the unexpected. Nevertheless, we will forge on this year because the mission of Marquette Academy is too important to give up on.
Every man, woman, and child wants the same thing: to be happy. The question we all have to answer as we go through life is what is it that will make us happy? The world proposes that earthly things are all we need; wealth, health, popularity, sports, entertainment, etc… When times are good, we can easily fool ourselves into thinking these things are enough, even if we do have a lingering sense that something crucial is missing. When times are bad, these things fail us, and if they are all we have our happiness fails too.
For 2,000 years, untold multitudes of people have been finding joy even in the midst of a turbulent world. How did they accomplish such a marvelous feat? By fixing their eyes firmly on the one thing that will never fail, the truth that endures forever, Jesus Christ our Lord and savior. This year, as a school community, we will be trying to follow in the footsteps of the men and women of faith who came before us by reminding ourselves of the big picture. Things are hard right now and as a people we are suffering. But we are still the people of God, and He is inviting us into a relationship with Him that will sustain us through every earthly trial and find its ultimate fulfillment in the perfect joy of heaven.
Our theme for this school year is Unmasking our Joy. Christ is always with us, waiting to pour grace into our souls, but often we forget to turn to Him. My great hope is that this year we can discover again how great our God is as a school, a community, and individuals. He is real, He is powerful, and He is good. So we will try to find Him in the good and the bad that we will experience in the coming year. Only then will we have peace and joy that lasts.
---
St. Paul preached the gospel to most of the known world and in the process experienced suffering far beyond anything I have. In the 11th chapter of his second letter to the Corinthians, St. Paul describes some of what he went through:
"Five times I have received at the hands of the Jews the forty lashes less one. Three times I have been beaten with rods; once I was stoned. Three times I have been shipwrecked; a night and a day I have been adrift at sea; on frequent journeys, in danger from rivers, danger from robbers, danger from my own people, danger from Gentiles, danger in the city, danger in the wilderness, danger at sea, danger from false brethren; in toil and hardship, through many a sleepless night, in hunger and thirst, often without food, in cold and exposure."
(2 Corinthians 11:24-27)
And yet, St. Paul is also able to say in the same letter:
"So we do not lose heart. Though our outer nature is wasting away, our inner nature is being renewed every day. For this slight momentary affliction is preparing for us an eternal weight of glory beyond all comparison, because we look not to the things that are seen but to the things that are unseen; for the things that are seen are transient, but the things that are unseen are eternal."
(2 Corinthians 4:16-18)
---
Only a tremendous faith can dismiss so much suffering as a momentary light affliction. St. Paul must have been absolutely convinced that he had found something truly good, something far better than anything else, something worth suffering to obtain. I know my faith is not nearly as strong as St. Paul's. Perhaps you are the same way. This year, let us grow in faith, find our joy, and witness to a world that has forgotten that Jesus Christ is Lord.
Know of my prayers for you all. If there is any way I can be of assistance to you or your family, please don't hesitate to let me know.
St. Paul, pray for us.
Blessed Virgin, our hope, seat of wisdom, pray for us.
In Christ,
Fr. Mattingly
Chaplain