Latest News at Marquette Academy
September 19, 2018
Here is some quick information regarding our Girls Softball Team heading to State on Friday. The girls first game is Friday at 10:00am against Windsor, at Champion Fields in Bloomington.
Tomorrow, Thursday, 9/20
We are honoring our girls after Mass tomorrow with a blessing at the end and best wishes for the WIN! Everyone is invited to attend Mass and the Blessing by Father Krengiel.
Friday, 9/21
Girls' first game is at 10:00 am. Please keep our players and coaches in your thoughts and prayers as they WIN STATE!
There are still seats on the fan bus for any student in grades 6-8. Please have your mom/dad write a note of permission for you to attend the game and miss school. Please remember to send money for admissions, snacks and lunch with your students if they are attending the game.
Friday, 9/28
PEP Assembly at the Elementary Gymnasium honoring / celebrating our Girls Softball Team and their outstanding accomplishments! Everyone is invited to attend!
If you have any questions, please call the office. 815-433-1199
Thank you !! Again, Good Luck Lady Knights!!!!!
September 12, 2018
SAVE with SCRIP in 10 minutes!!
How would you like to have credit applied to your tuition account, or gift it to a MA family that you choose? It's simple!

On Thursday, September 13th, from 2:30 to 5:00, stop by the lobby at the Elementary campus. Diane Whalen will show you how in 10 minutes. Some families have had $500 or more applied to their tuition account, and it has not cost them an extra penny to do it.

Current parent Dana Schmeckpeper says: "This is the greatest thing ever. I don't know why everyone is not doing it? Last year, we put $80 per month toward our tuition just from buying gas and groceries." You will learn how to Shop for yourself or give gifts with SCRIP. We can set you up. Not only will you earn rebates to be applied to your own tuition, but part of the rebate will also be applied to the Academy's general financial aid bank to help others. It is a win-win! Take a minute. Guaranteed, it will be worth your time.
Watch this short video to learn how easy SCRIP really is!

Visit www.shopwithscrip.com to learn how it works. We will see you there.
September 12, 2018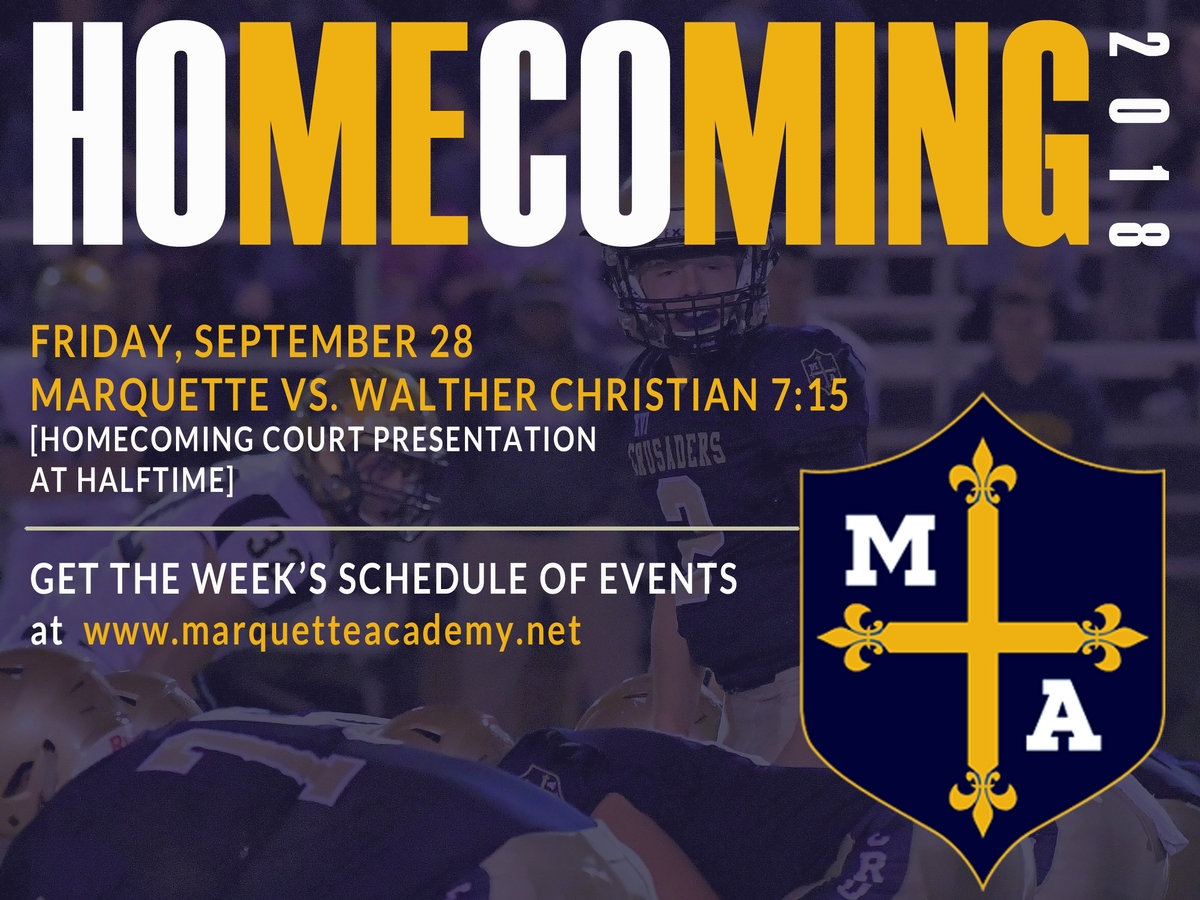 HOMECOMING WEEK 2018 - September 24-29
(Nickelodeon theme)
---
Monday, September 24th - Mass Day
*All Academy Mass Schedule students will be in Mass Dress Code
---
Tuesday, September 25th - Class Distinction Day
*Classes 1-4 Afternoon Door Decorating
Freshmen – Nick Jr
Sophomores – Nicktoons
Juniors - Teen Nick
Seniors - Nick at Night
Varsity Volleyball Home vs Roanoke Benson 7:00
---
Wednesday, September 26th – Nick Game Show Day
Students dress as your favorite Nick Game show
*Classes 5-8 in the morning with Class Sign Decorating
Parade 6:00
Bonfire & Cookout
---
Thursday, September 27th - Field Day
Students dress in Field day shirt and Shorts or sweats
*Classes 1-4 with Cookout at Field and Field Day following lunch

---
Friday, September 28th – Blue & Gold Day
* Classes 5-8 with Extended Homeroom during Lunch 4- Way Volleyball and Pep Assembly
Pep Assembly 1:30
Varsity Football vs Walther Christian 7:15
Presentation of Homecoming Court at Halftime of Varsity Game.
---
Saturday, September 29th – Homecoming Dance 7:00pm