Latest News at Marquette Academy
September 20, 2019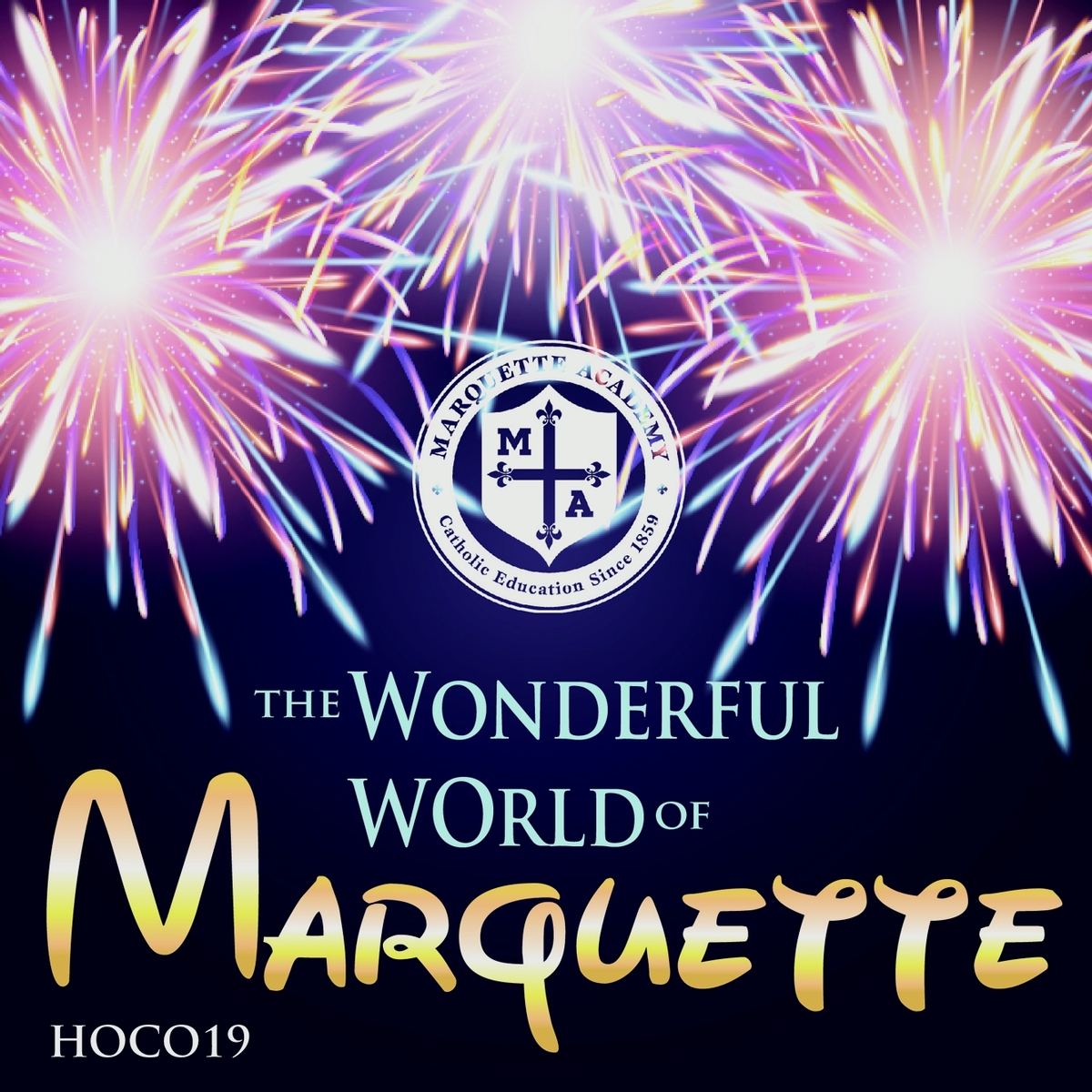 HOMECOMING WEEK 2019 –DISNEY
The Wonderful World of Marquette
The following are details for our upcoming week of Homecoming events. We hope many of you can join us at the parade, volleyball game, pep assembly and the Alumni & Family Weekend of events!
Monday, September 23rd - Mass Day
*All Academy Mass Schedule students will be in Mass Dress Code
Tuesday, September 24th -
*Classes 1-4 in the morning with afternoon Door Decorating
Freshmen – Disney Babies
Sophomores – Disney Villains
Juniors- Disney Side Kicks
Seniors- Disney Princes & Princesses
Parade 6:00
Bonfire & Cookout following parade at Gould practice field


Wednesday, September 25th – Pack the Place
*Please note classes will go 8th period, HR, 5th 6th & 7th in the morning Extended homeroom for lunch and door decorating
(Students will still attend IVCC 1st period)
*Dress as your favorite Disney Character/Movie
Pack the Place Home Volleyball vs Earlville 7:00
Thursday, September 26th - Field Day
Students dress in Field day shirt and Shorts or sweats
*Classes 1-4 with Cookout at Field and Field Day following lunch

Friday, September 27th – Blue & Gold Day
* Classes 5-8 with Extended Homeroom during Lunch
4- Way Volleyball
Pep Assembly 1:30
Varsity Football vs Rockford Christian 7:00
Presentation of Homecoming Court at Halftime of Varsity Game.
Alumni & Family Weekend kicks off with Tailgate from 4-7pm

Saturday, September 28th –
Homecoming Dance 7:00pm in Bader Gym
Alumni & Family Weekend Pork Chop Dinner at the Knights 5:30pm
---
Meet the 2019 Homecoming Court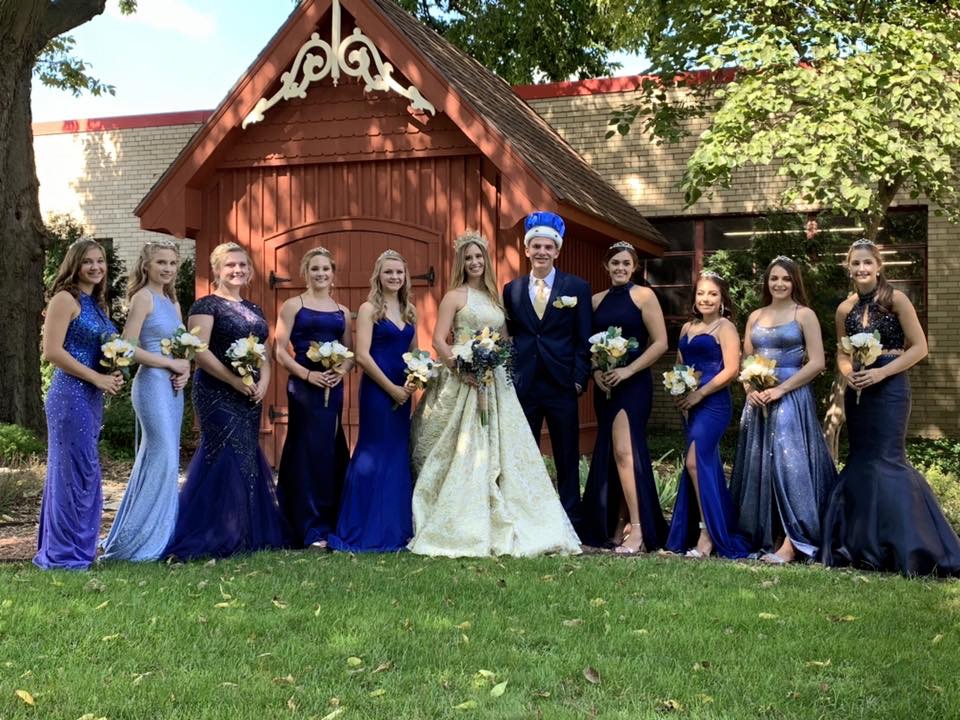 FRESHMAN:
Lindsey Kaufmann
Eva McCallum
SOPHOMORE:
Sabrina Bottoms
Maddie Howard
JUNIOR:
Alexia Solis
Addie McConnaughhay
Maddie Snook
SENIOR:
Justice Stanley
Sophia Leskanich
KING: Gabe Amicon
QUEEN: Chloe Garkey
January 24, 2019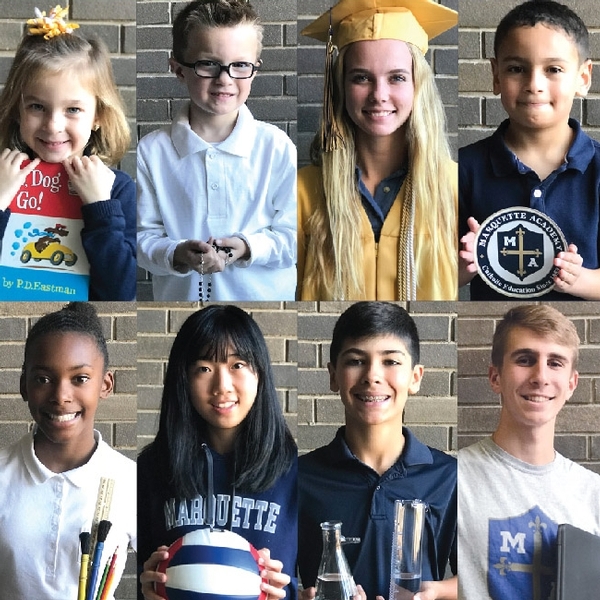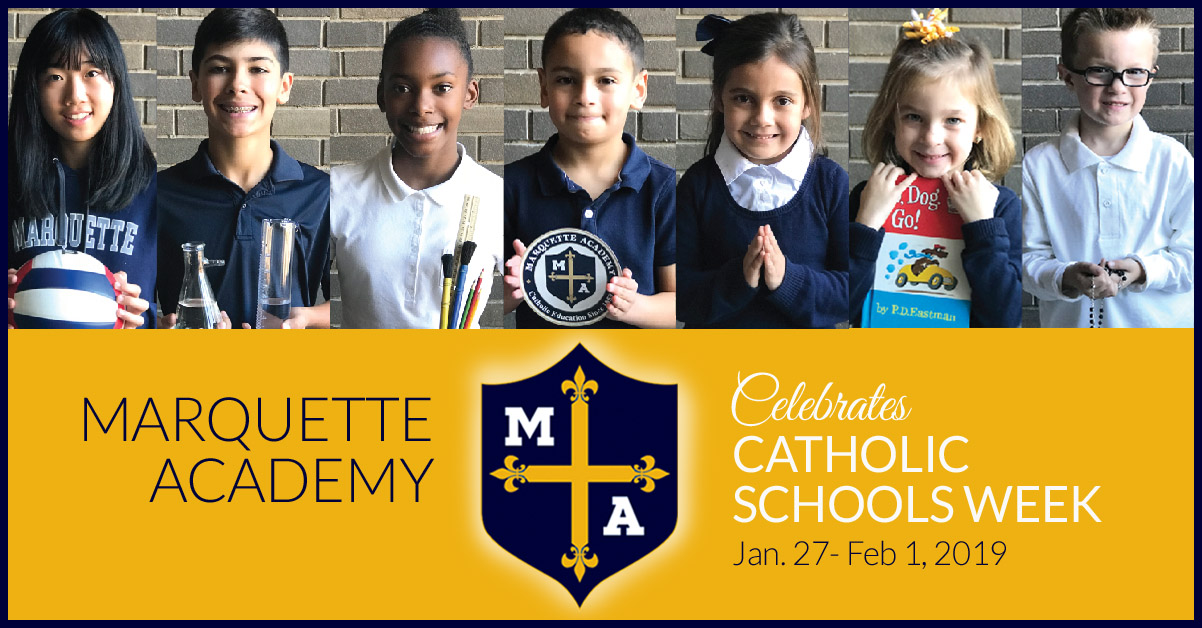 Marquette Academy Celebrates Catholic Schools week January 27 - February 1, 2019! We have a very busy schedule including all academy mass, Open Houses and activities. Below are the dates and times for the upcoming week.
Sunday, January 27:
Parent Appreciation Mass at St. Patrick Parish at 5pm
Spaghetti Dinner immediately following at the MAES Cafeteria, sponsored by the 8th grade students. Tickets are $8 for adults and $5 for children under 8 years old.
Monday, January 28:
PreSchool Open House at the MAES campus from 5-6:30pm
HS - Day of Service
GS - Day of Service , Blue and Gold Dress down
Tuesday, January 29:
HS - All Academy Mass, Mass dress code
GS - All Academy Mass, Sunday best or uniforms, Spelling Bee at 1:10pm
Wednesday, January 30:
Grade School Open House at the MAES campus from 5-7pm
HS - Faculty & Staff Appreciation Day, $2 sweats/jeans day
GS - Wacky Wednesday, games, scavenger hunt, Teacher Appreciation Lunch
Thursday, January 31:
HS - $2 sweats/jeans day
GS - Pajama Day, Cake Walk Carnival, Bags Tournament, Game Day Tournament
Friday, February 1:
HS - Student Appreciation Day (free dress down day, free lunch for students, After Lunch Student Fun Day)
GS - Sport Jersey Day, Beach Ball Volleyball 12:30-2pm
January 03, 2019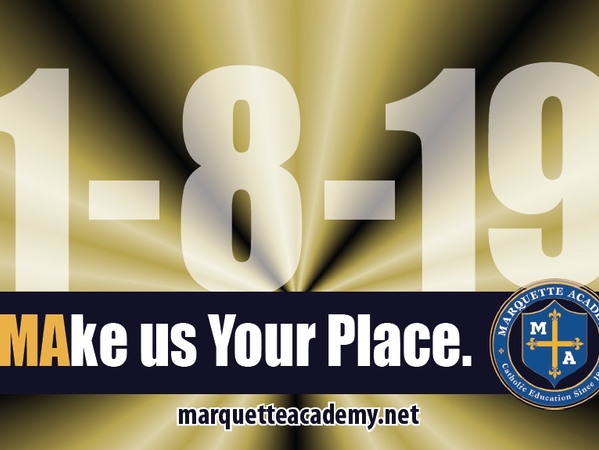 MA High School Open House is Tuesday, January 8, 2019
Join the Marquette family and learn what we have to offer. MAke us Your Place!
6:00-6:30 pm Activity Fair 6:30 pm Guided Tours Begin
Financial Aid/ Scholarship Info
Guided Tours of the Campus
Activity Fair representing all Athletics, Clubs & Organizations
Many Prizes and Drawings… Including a Full & Half Year Tuition Giveaway!
Come see why we are more than a school… We are MARQUETTE!!!