MAHS Key Club Giving Calendar for the Holidays!
Our MAHS Key Club students have teamed up with OTHS for our annual Giving Calendar, which benefits local families in need. Please view the calendar dates and list of items needed. If you are able to donate, please drop off the items at the high school campus. Thank you for your generosity.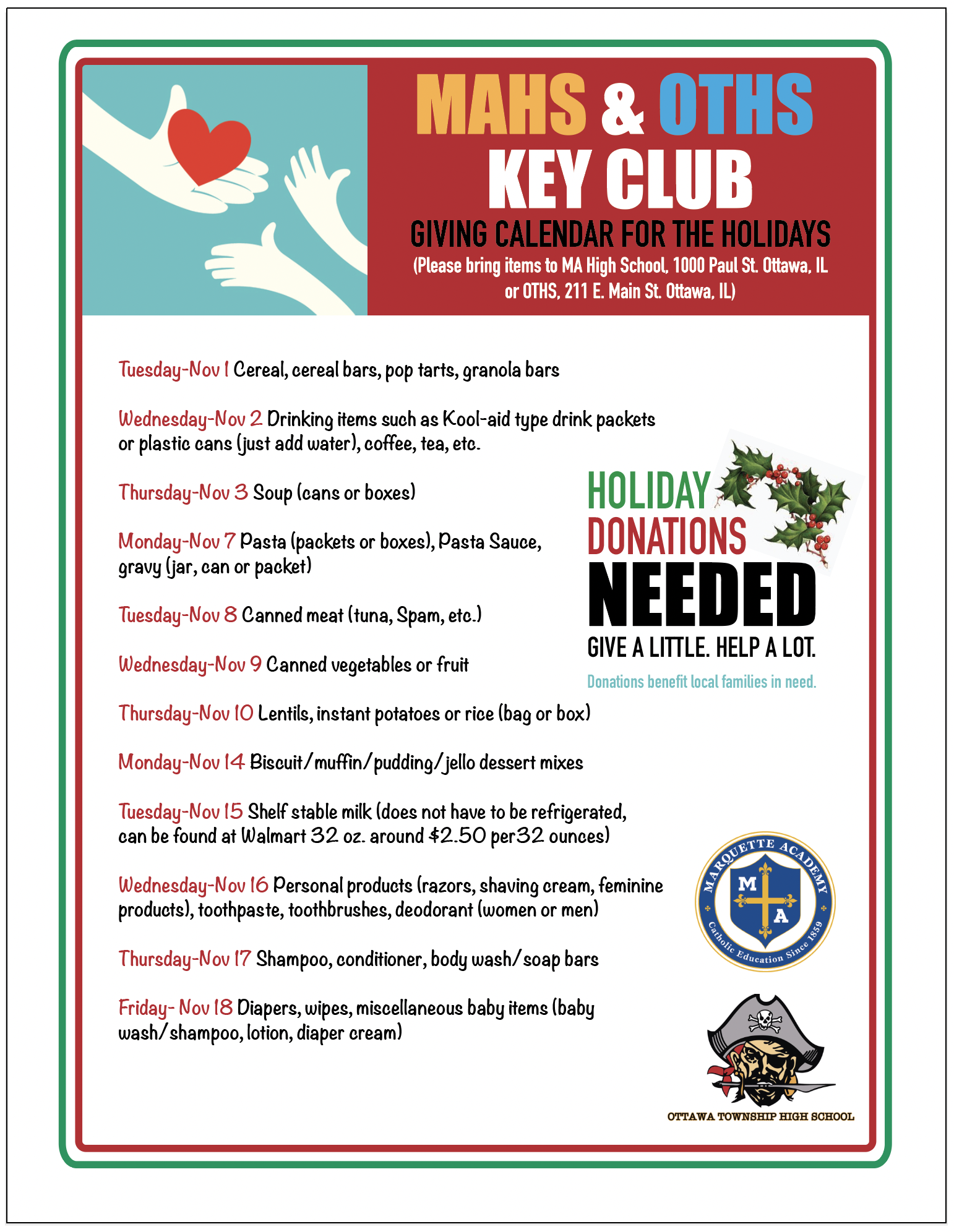 ---
When you send your child to Marquette Academy, you become part of an exceptional tradition of education and spirituality. We pride ourselves on educating the WHOLE person through spiritual, academic, social, emotional and physical formation.
We offer a 10:1 student/teacher ratio – Marquette Academy provides exceptional educational opportunities with smaller class sizes and a motivated teaching staff that cares about each individual student.
Marquette Academy accepts students of every race, ethnicity and religion. In fact, nearly 1/3 of our students are non-Catholic and come from a variety of religious denominations. Marquette Academy focuses on the teachings of the Catholic Church while emphasizing Christian morals and values that you teach at home.
Our students are offered a Roman Catholic learning community that strives to promote spiritual, academic, social/emotional, and physical growth. We believe in developing critical thinking skills, a lifelong love of learning, and a safe, family-like environment.
You can graduate from Marquette Academy with your High School Diploma and Associate Degree; we are the only school in the area that offers a program like this.
The class of 2019 earned nearly $1,500,000 in college scholarship monies.
98-99% of Marquette's graduating classes enroll in college. (1-2% to the military or trades)
Average ACT score for MA students is 23.8 (state average 20.8)
STEM Program implemented at all levels.
Here are some of the extra-curricular activities that our students can partake:
Organizations:
Ambassadors Club, Academic Club, Pro Life, Order of the M, Fine Arts, Key Club, Go Green Club, Student Council, Torch Bearers, Scholastic Bowl, WYSE Team, National Honors Society, Honors Band, Honors Choir, Drama, Crazy Cru, Robotics, Student Athletics Trainers, Yearbook.
Athletics:
Baseball, Basketball (Girls & Boys), Cheer, Cross Country (Girls & Boys), Football, Golf (Girls & Boys), Poms, Softball, Track (Girls & Boys), Volleyball, Wrestling