Marquette Academy Homecoming Week
October 10-14, 2017.
Marquette Academy 2017 Homecoming Court:
Freshmen attendents-Nya Clark, Molly Snook. Sophomore-Grace Jeanblanc, Aspen Johnson; Junior-Hannah Cowie, Ashlyn Thomas; Senior-Makenna McConnaughhay, Kaylor Speirer; King- Sam McGrath, Queen-Allie Snook
MAHS Dance Permision Form
Download Here
Saturday, October 14, 2017: Homecoming Dance
The Homecoming Dance will take place in Bader Gym from 7:00pm-10:00pm

Class Floats: Classes will join together to have a float in the Parade. Freshmen & Sophomores: Juniors & Seniors. The parade is Wednesday October 7 at 6:00pm. Floats will be judged on
-Aesthetics & Design
-Theme of Homecoming
-Class Involvement
-Creativity
Door & Hallway Decorating: Each homeroom will decorate the door to their classroom, and an appropriate span of their hallway. Door judging will be Wednesday, October 11th at 5:00pm.

Games Throughout the week:
Throughout the week, there will be different games and activities during the school day. They will be announced in the morning with what will be happening . Some will include a few representatives from your homeroom or class to complete a task or mission, others will include your whole class doing something together.
BELL SCHEDULE:

Download the Bell Schedule here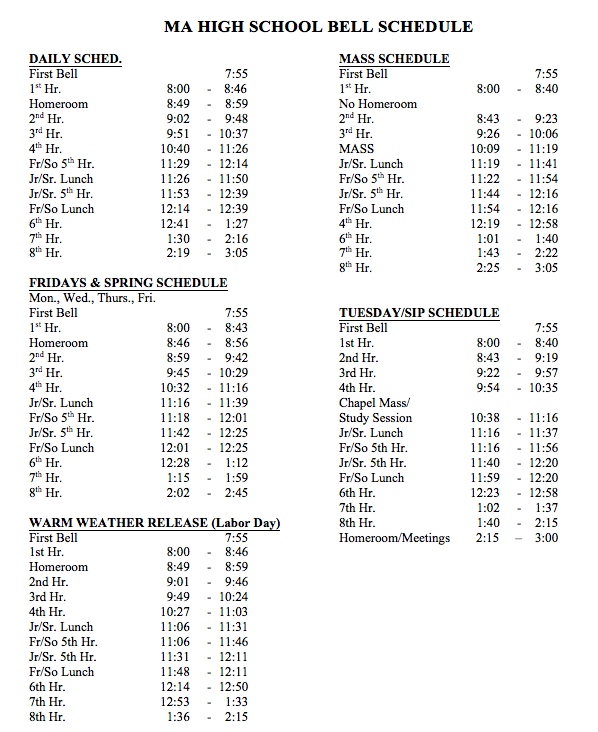 Monday & Tuesday: In order to accommodate time for the classes to work on their doors and floats we will be on a SIP schedule with extended homeroom on Monday and Tuesday of Homecoming week.
Wednesday: All Academy Mass schedule with a 3:05 release
Thursday: NO School In service
Friday: Modified schedule for field day and Assembly, there will be no classes on Friday.

---
Interim is 2 days in March when our freshmen through seniors take classes outside of the regular classroom setting. There are many all day field trips and 2 hour classes offered here at school. It is an opportunity for the students to learn about subjects they may never have a chance to learn about or to visit. It is a fun learning experience for all involved. Students must sign up for 10 hours of classes during those 2 days. It is a nice break from the winter doldrums. Interim is a very valuable learning experience.