MERRY EVERYTHING
Holiday Home Tour
Merry Everything Holiday Home Tour will be held on Saturday, December 2, 2023 from 3-8pm. Tickets cost $25 ($30 on the day of the event) and will go on sale November 1.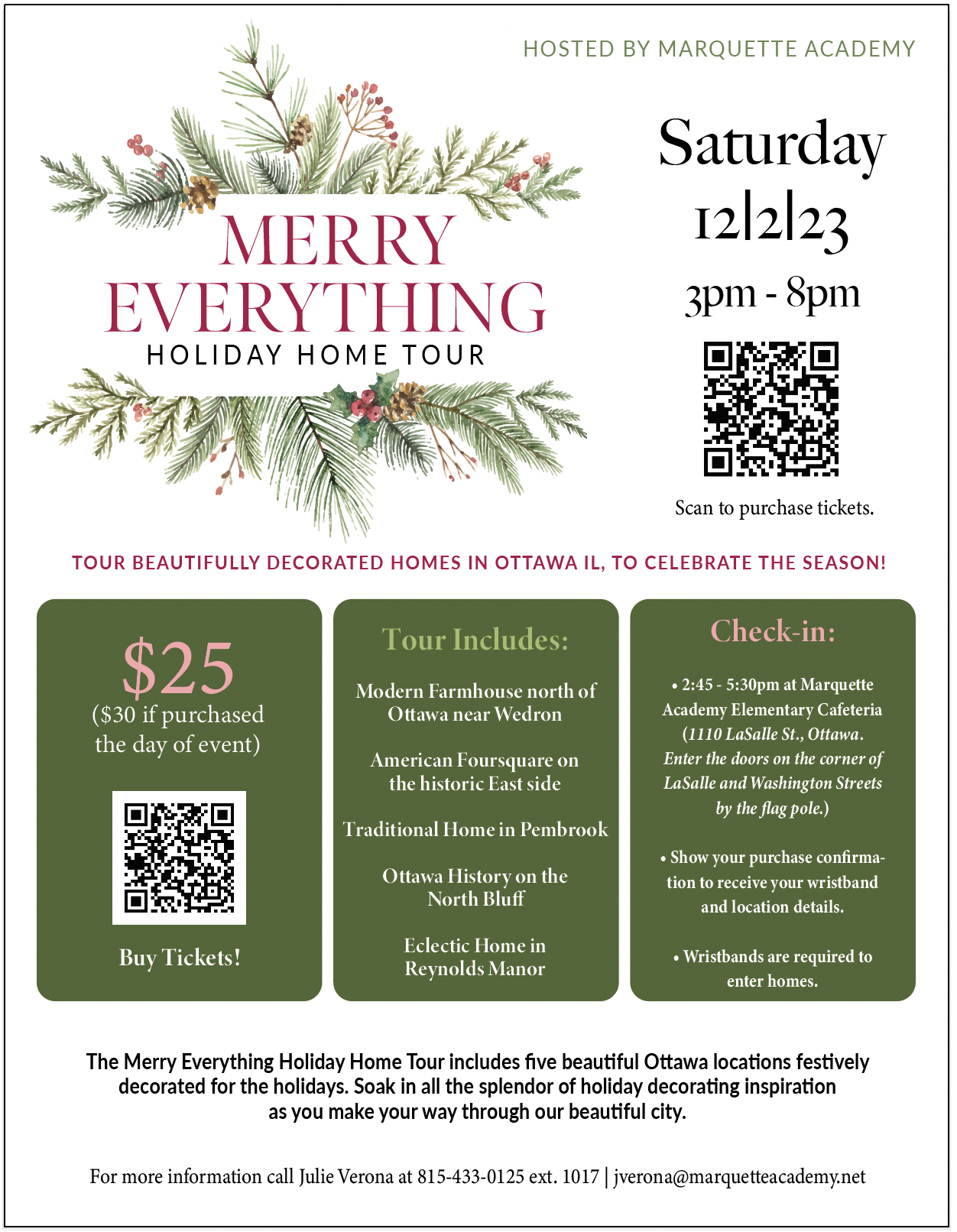 ---
MERRY EVERYTHING CALENDAR RAFFLE
Our Marquette Academy MERRY EVERYTHING CALENDAR RAFFLE is better than ever and tickets are on sale NOW. We are so excited about all the amazing prizes to give away, valued at $150 or more, every day December 1-24, with a Grand Prize of $1,000 on Christmas Day! A sincere thank you to all who donated to the calendar.
Tickets will be sold at $10 per chance all through the month of November at both campuses, and by Marquette families. Thank you for your support!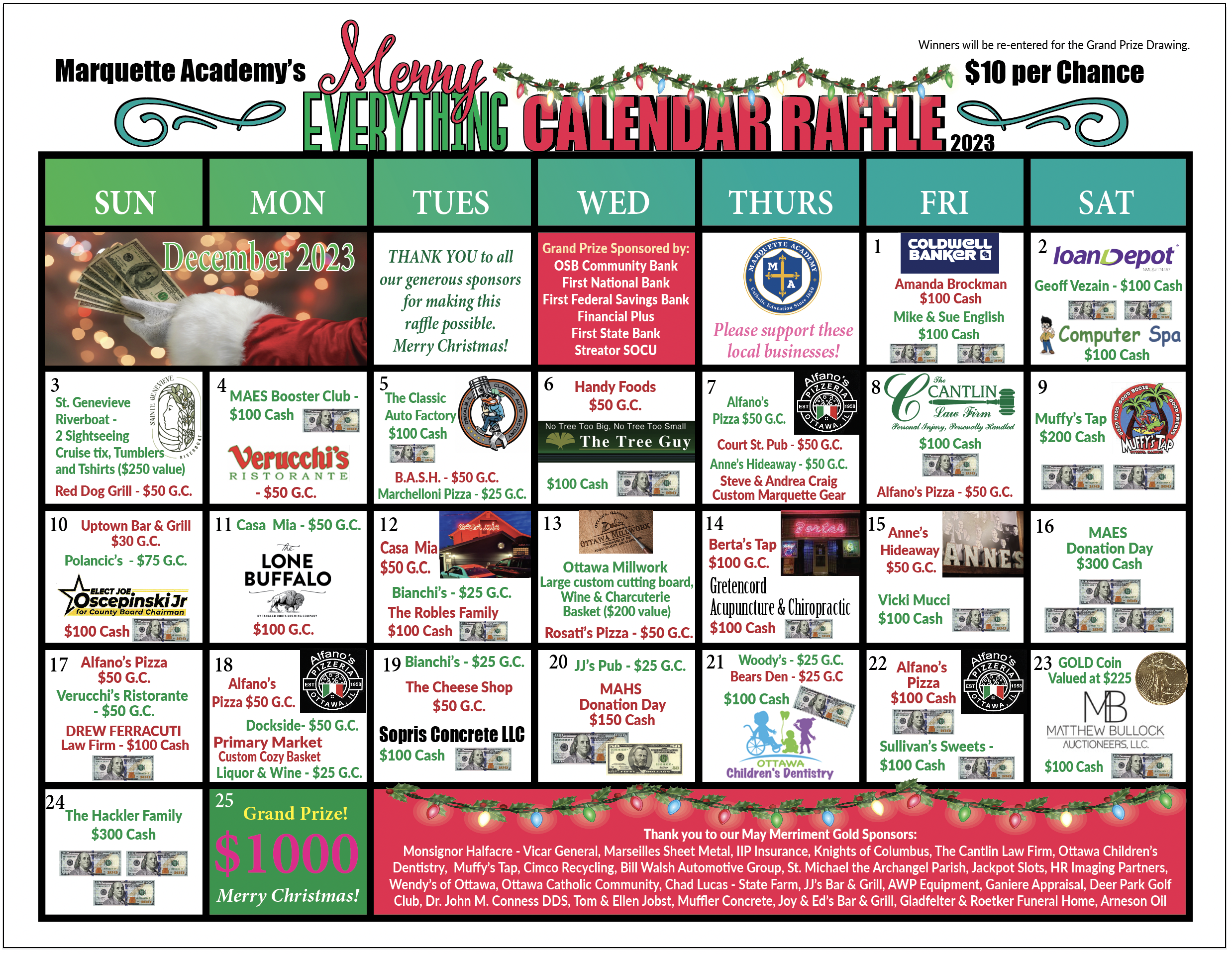 ---
* FRESH WREATHS & GREENS *
Get festive! We are selling beautiful, fresh holiday greens and wreaths from Garden's Gate ONLINE at www.supportmarquette.com.
Order now through November 20. Pick-up begins on November 29 at Floret's Plants and Provisions - 614 Court Street, downtown Ottawa.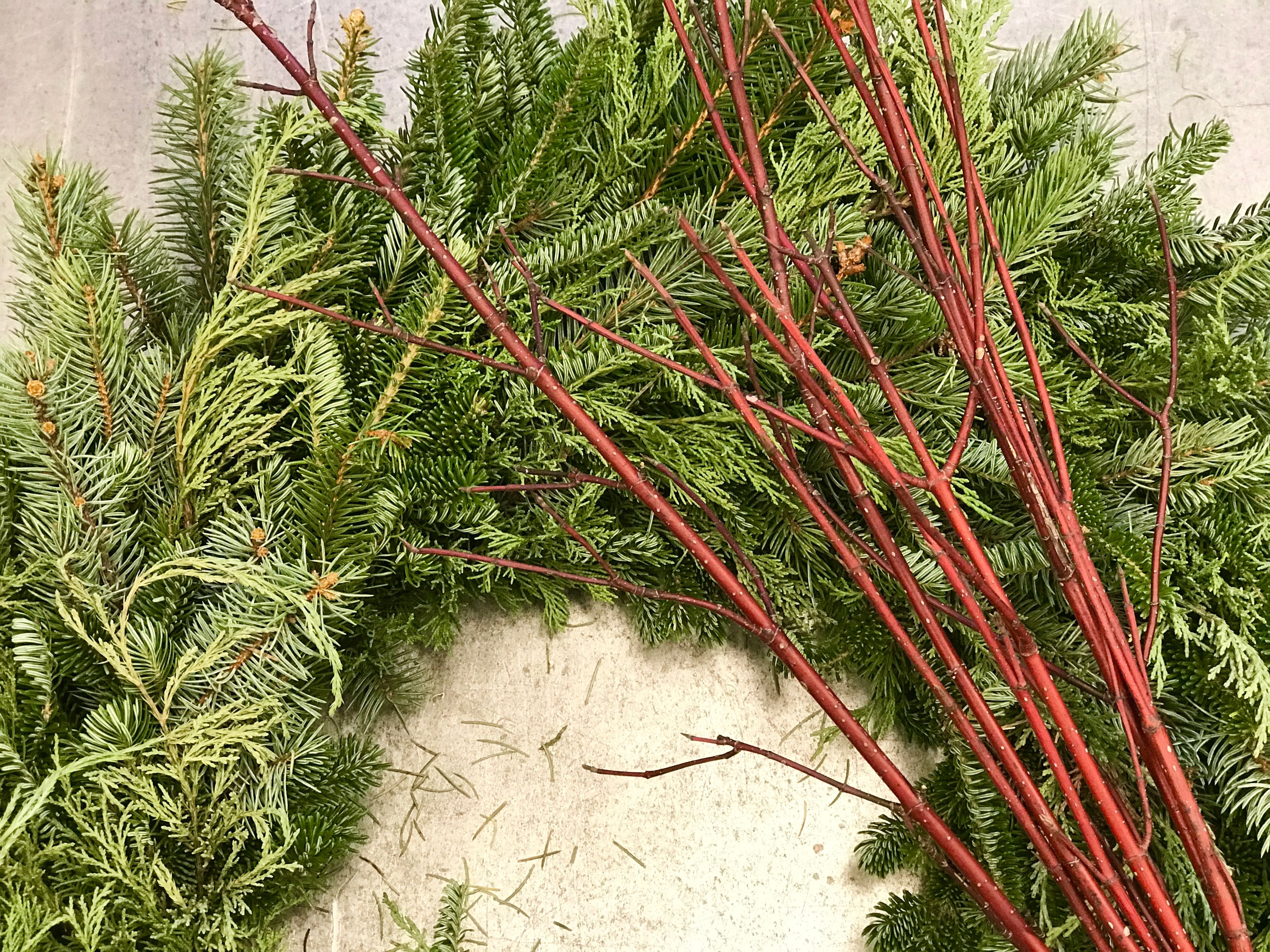 ---
Thank you to our Calendar Raffle Sponsors:
Alfano's Pizzeria
Amanda Brockman - Coldwell Banker
Anne's Hideaway
B.A.S.H.
Bears Den
Berta's Tap
Bianchi's
Casa Mia
Computer Spa
Court Street Pub
Dockside Bar & Grill
Drew Ferracuti Law Firm
Financial Plus
First Federal Savings Bank
First National Bank
First State Bank
Gretencord Acupuncture & Chiropractic
Handy Foods
JJ's Pub
Joe Oscepinksi Jr for County Board
Liquor & Wine
Loan Depot -Geoff Vezain
MA Grade School Booster Club
Marchelloni Pizza
Matthew Bullock Auctioneers, LLC
Mike & Sue English
Muffy's Tap
OSB Community Bank
Ottawa Children's Dentistry
Ottawa Millwork
Polancis's
Primary Market
Red Dog Grill
Rosati's Pizza
Sopris Concrete, LLC
St. Genevieve Riverboat
Steve and Andrea Craig
Streator Onized Credit Union
Sullivan's Sweets
The Cantlin Law Firm
The Cheese Shop
The Classic Auto Factory
The Hackler Family
The Lone Buffalo
The Robles Family
The Tree Guy
Uptown Bar & Grill
Verucchi's Ristorante
Vicki Mucci
Woody's Steak House