Welcome to Marquette Academy Elementary Campus.
---
JOIN US!
MAES and PreK Open House on March 8, 2023
5:00-6:30 at the Elementary Campus
Financial aid and scholarship information
Meet our faculty and staff and tour the campus
prizes & drawings, including a $500 tuition giveaway!
We educate the whole person, and reinforce the values that start at home. Come see why we are more than a school ... We are Marquette! Call 815-433-1199 with questions.
---
Marquette Academy is a Pre-K – 12 Roman Catholic learning community that strives to promote spiritual, academic, social/emotional, and physical growth. We believe in developing critical thinking skills, a lifelong love of learning, and preparing our students to enter an increasingly interconnected society. Traditions here are embraced. Dedication is the norm. Excellence is the expectation.
Parents, for more helpful information click here.
Click to download or view our GS Informational Brochure: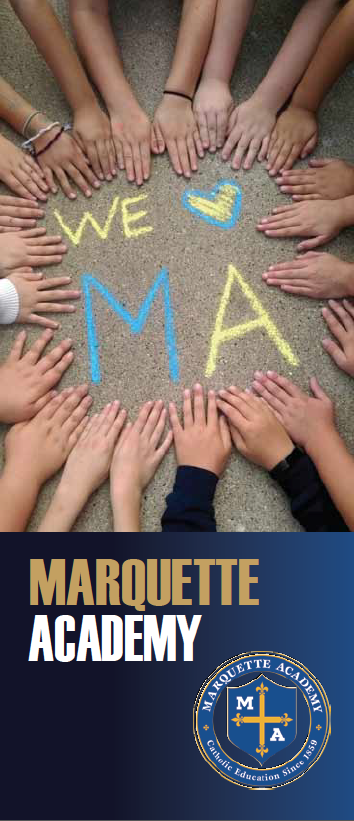 ---
Teachers outline course requirements and the manner of computing course grades at the beginning of the school term.
Academic achievement marks are given in letters corresponding to the following percents:
A= 100-92
B= 91-84
C= 83-74
D= 73-70
F= below 69
Marquette Academy Elementary students continually test above the national average on the IOWA basic test of skills. The National average for this test is 50. Here is how we measure up!
3rd Grade-66
4th Grade-63
5th Grade- 72
6th Grade-62
7th Grade-63
8th Grade-64
Total School Composite Score 65
---
---
Here at Marquette Academy, we believe in the development of the whole child. Our students are offered a Roman Catholic learning community that strives to promote spiritual, academic, social/emotional, and physical growth. We believe in developing critical thinking skills, a lifelong love of learning, and a safe, family-like environment. Here are some of the extra-curricular activities that our students can partake:
Academic Team
Art Club
Robotics
Wrestling Club
Intramurals
Student Council
Recycling Go Green Club
Band
Choir