Go Club Upcoming Events for 2022-23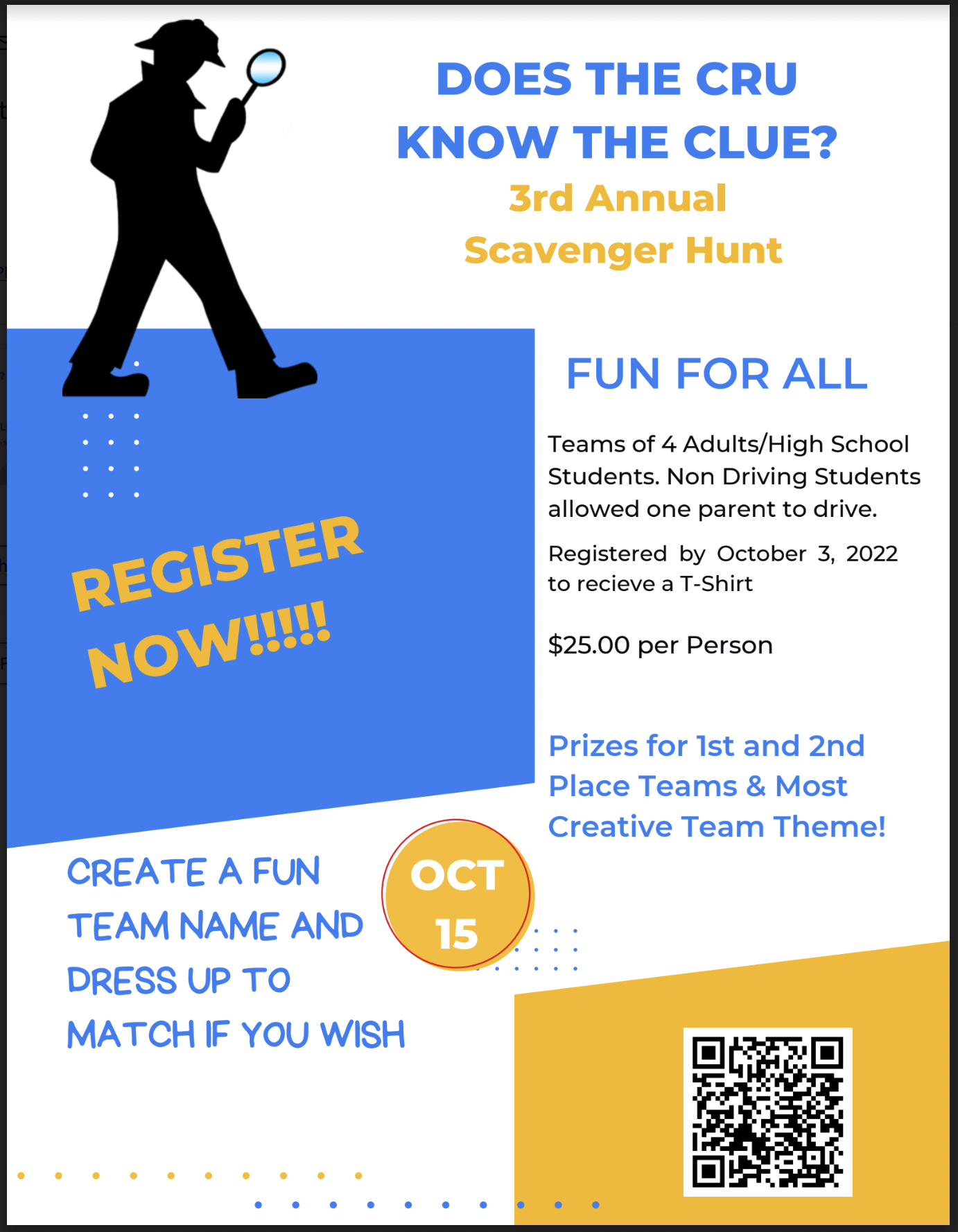 October 15th- Show your competitive side by joining in on our Does The Cru Know The Clue? Scavenger Hunt. This is for all High School Students and Adults to participate in. Teams of 4 will travel around town to solve clues. Great way to meet new people and classmates. Registration forms will be linked at a later date. Teams will receive T-Shirts for early registration and Cash and Fun Prizes will be given away. Download a registration form here.
December 26-29th - The Annual Holiday Basketball Tournament is coming to Bader!!!! We are so excited to have this come to us after years of success in Marseilles. Stay tuned for more information on Sponsorships and volunteering at the event from Tournament Directors in the near future.
---
Donate to the Go Club
You can safely make a donation, pay your membership, or give to one of our current projects to benefit our student athletes. Just write Go Club in the "Cause Section" below. Thank you for your continued support.
You can continue to the payment section without having a PayPal account. After you select the pay using PayPal button, you will be taken to the secure PayPal page, then just choose "use debit or credit card" option instead of logging into a PayPal account.
The Marquette Academy Go Club is responsible for all funding for our High School Athletics and all things associated with sports. (uniforms, hiring referees, transportation, maintaining facilities) Your support is appreciated and necessary for the success of our programs. Each student that participates in a sport is directly affected by the efforts put forth by you and the Go Club.
Ways you can support the Go Club:
Going to sporting events
Go to fundraising events (watch your emails and Facebook for event details)
Buying 50/50 and raffle tickets
Volunteering to help take care of facilities
Go to the meetings to learn more
Thank you for supporting our athletes!
---
Officers
Dan McGrath - President
Mike Graham - Vice President
Ryan Reynolds - Treasurer
Donna Gamons - Secretary
Renee Durdan
Mark Larson
Rick Mullen
Jake Callahan
---
GO CLUB GRID IRON GAME
To see the winners click here!
8/26/22
9/2/22
9/9/22
9/16/22