Congratulations to the Winners:
Alyson Cass - 1st quarter
Pat Whalen & Dave Fowler - 2nd and 3rd quarters
Ann Burton - 4th quarter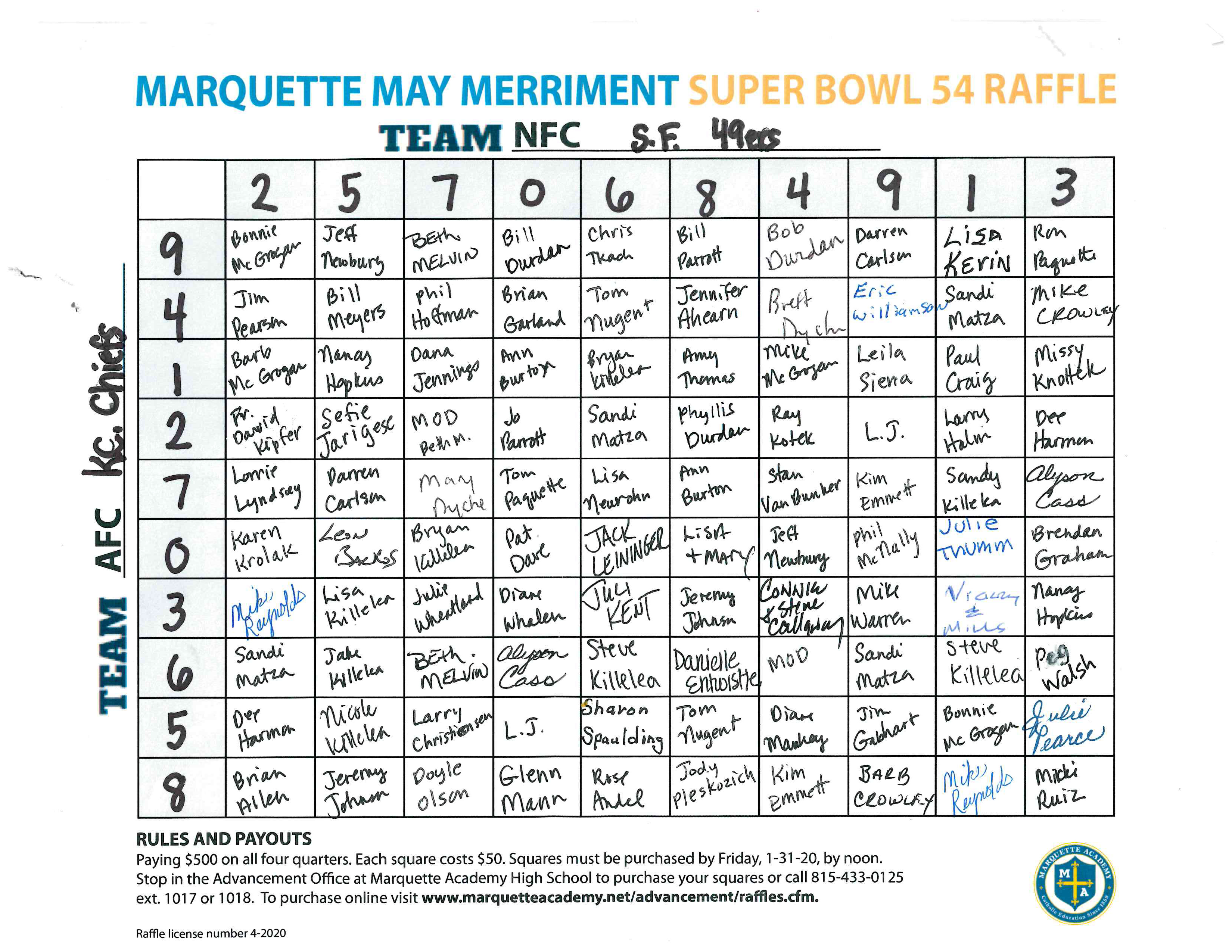 Raffle license number 4-2020
---
Winner a Week Raffle
Winner a Week Raffle are tickets that you purchase at registration. Drawings are held every Friday during the school year. For questions contact Diane Whalen at 815-433-0125 ext. 1018.
Drawing DatE
12/6/19
12/13/19
12/20/19
12/27/19
1/3/20
1/10/20
1/17/20
1/24/20
1/31/20
2/7/20
2/14/20
2/21/20

Winner
Rinearson
Glenn Mann
Michael Obos
Molly Bentz
Brenda Aussem
Jen Sandei
Pete & Leila Siena
Finan/Coutts
Pat Flavel
Melissa Rauh
Diane Mitchell
Larry/Juanita Dixon
Prize Awarded
$175 Handy Foods
$175 Visa/Shell
$175 Applebees
$175 Kohls
$200 Handy Foods
$200 AMC
$200 Walmart
$200 Menards
$200 Kohls
$200 Home Depot
$200 Target
$200 Walgreens
GRID IRON GAME TICKET WINNERS 2019
GAME WINNERS – August 30, 2019
Jack Cantlin and Cantlin Law Firm
Earl & Phyllis Donahue
Msgr. Philip Halfacre
Leah Hettel
Judi Johnson
Fr. David Kipfer
Julie Lyons
Dee McCallum
Keith McGinnis
Pete McGrath and IIP Insurance Agency
Jack & Mary Lou Mitchell
Char Nelson
Doyle & Kay Olson
Ron Paquette
Daniel Reynolds
Kevin Schultz and Schultz Agency
Joe Smith
Randy Thorsen
Game Winners September 27, 2019
Brad Armstrong & Armstrong & Assoc.
Remzi Banushi & Hi Way Restaurant
Molly Bentz
Marshal Brown
Jim & Nancy Conness
Thomas Duttlinger
Jennifer Eller
Lawrence Halm
Leah Hettel
Katie, Hunter, Ty & Tate Hopkins
Nancy Hopkins
Robert J. Hughes
Ellen Jobst
Patrick Killelea
Tom & Sherrie Martini
Laurie Mullen
Mary Olson & Prairie Fox Books/Rock Paper Scissors
Rainbow Travel & Jennifer Eller
Kayla Ryan
Terry Bentz Buick
Amy & Dan Thomas
Don Weber
Game Winners October 11, 2019
Mary Brown
Jim & Nancy Conness
Earl & Phyllis Donahue
Mike English
John & Darlene Ewers
Dr. Mark Frahm & 1 Body Life
Roy Garland
John Guyette
Don Kiesig
Lisa Killelea
Jack & Jackie Leininger
John McLachlan
Tom McNamara
Eugene O'Connell
Ottawa Savings Bank
Dave Park & The New Chalet Restaurant
Bill Parrott
Dan Patton
Dan Renolds
Justin & Brooke Rick
Paul Salt
Steve Scherer
Kevin Schultz & Schultz Insurance
Peter & Leila Sienna
Joe Smith
Sarah Smith
Terry Bentz Buick
The First Nat'l Bank of Ottawa
Bill Walsh Automotive Group
Tom & Peg Walsh
Dr. Jeff Yocum & Family Eye Care
Game Winners-October 18,2019
John M. Conness
Tim Creedon
Deanna Crowley
Bill & Phyllis Durdan
Drew Ferracuti Law Firm
Jane Jobst
Lisa Killelea
Jim McCarrens
Jamie & Mindy McConnaughhay
Patricia Nugent
Karen Nussbaum & Ottawa Funeral Home
Ron Paquette
Kayla Ryan
Peter & Leila Siena
Chris Tkach
Bill Walsh Automotive Group
Colleen Zitt