MERRY EVERYTHING
Check out this year's Merry Everything Calendar Raffle! It's full of amazing prizes of cash and/or gift cards, valued at $100 or more, every day December 1-24. All daily winners will be re-entered for the Grand Prize of $1,000 cash on Christmas Day!
Tickets are on sale NOW, cost $10 per chance, and can be purchased at the Grade School or High School campus.
A sincere Thank You to all the friends of Marquette and businesses that donated to make this year's calendar raffle the best ever! Please support these local businesses who are so generous to our school.
Lucky Winners:
December 1 - Shannon Killelea
December 2 - Penny Offerman
December 3 - Nancy Collins
December 4 - Brian Clairmont
December 5 - Robin Ballard
December 6 - Lorrie Lieske
December 7 - Carol Zasada
December 8 - Meg Skelly
December 9 - Alex Deady
December 10 - Jackie Bolatto
December 11 - Louis Jimenez
December 12 - Julie Shreve
December 13 - Matt Babiak
December 14 - Julie Pearce
December 15 - Joyce Bardson
December 16 - Kelly Zachary
December 17 - Jan Krug
December 18 - Olilvia Lucas
December 19 - Lori Cooke
December 20 - Bill Kozlowski
December 21 - Mike Glavin
December 22 - Addison Parrott
December 23 - Jenny Gaworski
December 24 - Jeff Offerman
December 25 - GRAND PRIZE - Heidi Heuser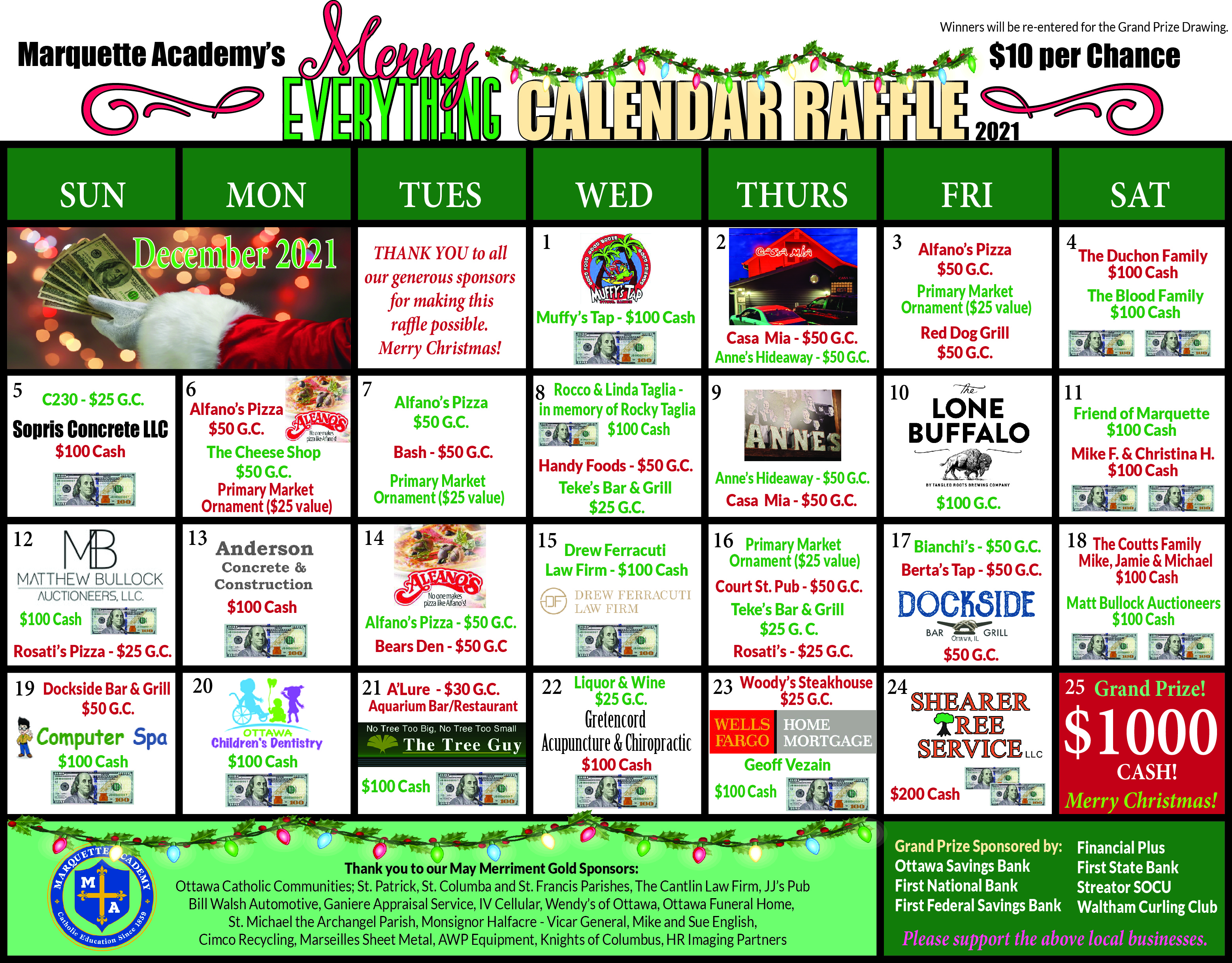 Thank you to our Calendar Raffle Sponsors:
Drew Ferracuti Law Firm
Geoff Vezain, Wells Fargo
Matthew Bullock Auctioneers
Anderson Concrete & Construction
Shearer Tree Service
Gretencord Chiropractic
Sopris Concrete, LLC
Muffy's Tap
Ottawa Children's Dentistry
The Tree Guy
Primary Market
Computer Spa

Alfano's Pizza
A'Lure Aquarium Bar and Grill
Anne's Hideaway
B.A.S.H.
Bear's Den
Berta's Tap
Bianchi's Pizza
C230
Casa Mia Restaurant
The Cheese Shop
Court Street Pub
Dockside Bar & Grill
Handy Foods
Liquor & Wine
Lone Buffalo
Ottawa Rosati's
​​​​​​​Red Dog Grill
Teke's Bar and Grill
Woody's Steakhouse
The Duchon family
The Blood family
Friends of Marquette
The Coutts family
Mike F. and Christina H.
Rocco & Linda Taglia - in memory of Rocky Taglia



Grand Prize:
Ottawa Savings Bank
First National Bank
First Federal Savings Bank
Financial Plus Credit Union
First State Bank
Streator SOCU
Waltham Curling Club
---
Thank you to our generous May Merriment Sponsors!
GOLD SPONSORS for 2021
Ottawa Catholic Communities; St. Patrick, St. Columba and St. Francis Parishes, The Cantlin Law Firm, JJ's PUb, Bill Walsh Automotive, Ganiere Appraisal Service, IV Cellular, Wendy's of Ottawa, Ottawa Funeral Home, St. Michael the Archangel Parish, Monsignor Halfacre - Vicar General, Mike and Sue English, Cimco Recycling, Marseilles Sheet Metal, AWP Equipment, Knights of Columbus, and HR Imaging Partners.