Tours / Shadowing / Enroll
Schedule your Personalized Tour or Shadow a Marquette Student today!
Contact the Director of Admissions: Mindy McConnaughhay at 815-433-0125 ext. 1010, or email mmcconnaughhay@marquetteacademy.net
High School Open House is Tuesday, January 8, 2019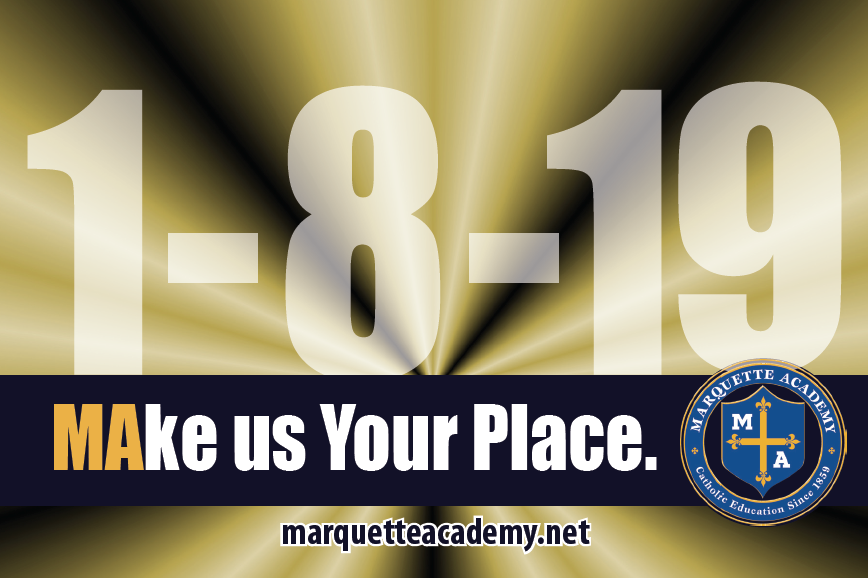 Tuesday, January 8, 2019
6:00-6:30 pm Activity Fair 6:30 pm Guided Tours Begin
Financial Aid/ Scholarship Info
Guided Tours of the Campus
Activity Fair representing all Athletics, Clubs & Organizations
Many Prizes and Drawings… Including a Full & Half Year Tuition Giveaway!
Come see why we are more than a school… We are MARQUETTE!!!
---
Freshman Enrollment Dates
3/8 - 7:30am-11:00am MAGS 8th graders only
3/8 - Open Freshmen Enrollment 6:00-8:00pm in HS Library
3-10 - Open Freshmen Enrollment 9:00am-12:00pm in the HS Library
SUMMER REGISTRATION DATES FOR 2018-2019
May 21 – 6pm - 8pm - Grade School Cafeteria
May 22 – 9am - 1pm - Grade School Cafeteria
June 6 – 4pm -7pm - High School Library
June 27 – 9am - 1pm - High School Library
July 15 – 10am - 2pm - High School Library
After July 15 any late registrations will include a $250.00 late fee