Tours / Shadowing / Enroll
Schedule your Personalized Tour or Shadow a Marquette Student today!
Contact the Director of Admissions: Mindy McConnaughhay at 815-433-0125 ext. 1010, or email mmcconnaughhay@marquetteacademy.net
---
Marquette Academy High School Sneak Preview Day!
When: Friday, March 4th
Time: 8:30am-12:30pm (Lunch will be provided)
Where: 1000 Paul St. -Ottawa
What: Experience a day in the life of a Crusader.
Come see why we are more than a school ... We are MARQUETTE!
For more information contact Mindy McConnaughhay (815)433-0125 ext. 1010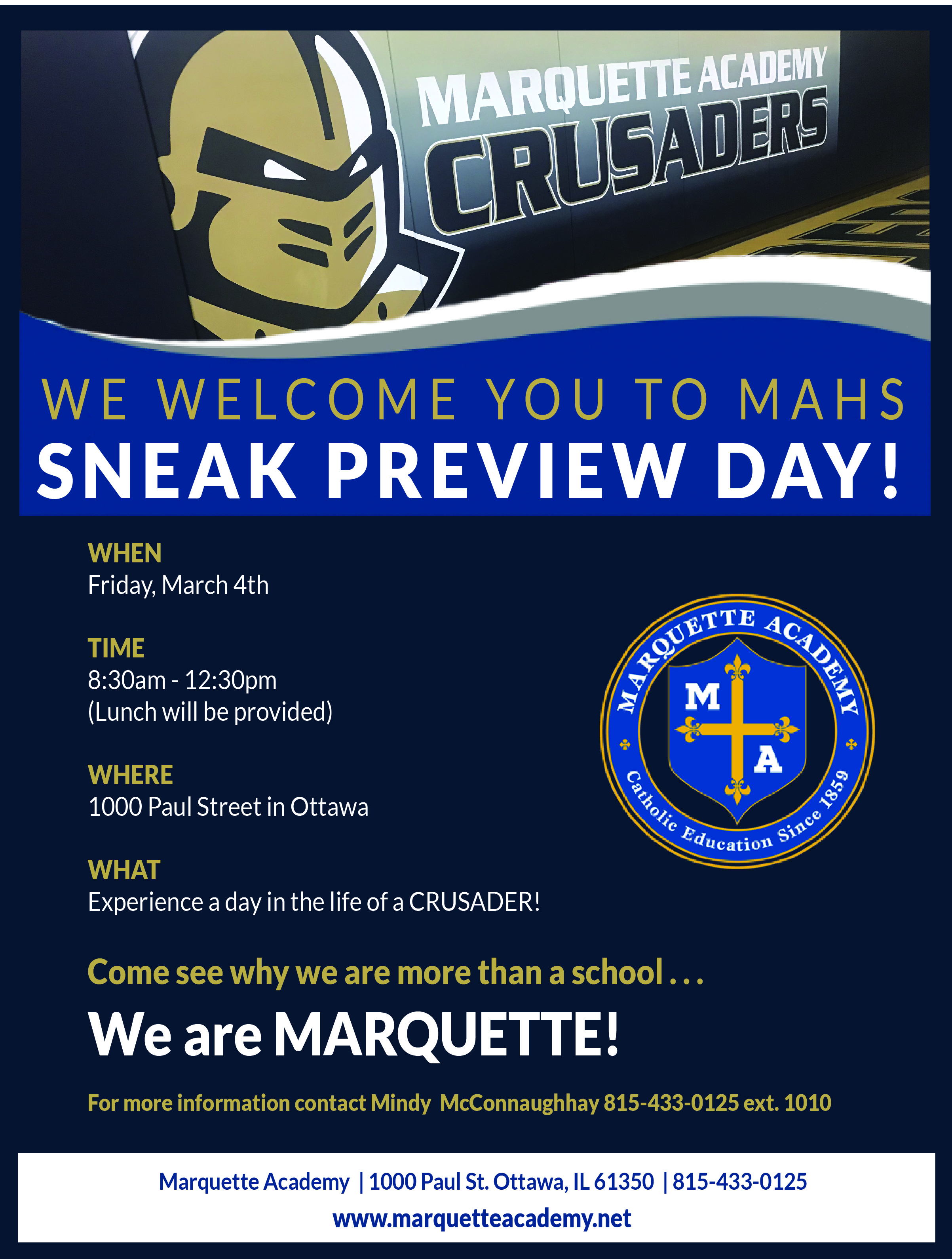 ---
MA is Exceptional Academics, with a 10:1 student/teacher ratio and 100% graduation rate. Our school consistently tests above the local, state and national averages at every grade level, plus we offer accelerated learning programs and dual college courses.
MA is student involvement, offering numerous clubs, competitive sports programs and meaningful activities for students of all ages. Our faculty and staff care about each individual student helping them reach their full potential.
MA is religious education, focusing of the teachings of the Catholic Church while emphasizing Christian morals and values that parents teach at home. We educate the whole person.
We are more than a school, We Are Marquette!
Top Ten Reasons to send your child to Marquette Academy
With all that's happening in our world today, a safe place for your child's education should be the last of your worries. We have an environment which is moral and value based in a society that needs it now more than ever. Below are the top ten reasons to attend Marquette Academy!
1. 100% Graduation Rate
2. MAHS offers Dual Credit, IAI, and The Running Start program in which students can earn an Associate Degree while in high school.
3. 1-10 Teacher to student ratio = smaller class sizes
4. Average ACT score 24.3 (national average 20.8)
5. 1-4 MAHS students enter college as a Sophomore and many as a Junior
6. Students receive higher test scores at all grade levels: local, state, and National
7. Over 70% of our upperclassmen are currently taking college classes.
8. The last year MAHS students completed over 18,000 hours of community service.
9. Daily faith and religious instruction to develop the whole person. We reinforce the values you teach at home.
10. Currently, every student at MAHS is involved in some type of extracurricular activity; sports, clubs, and organizations.