September 15, 2023 (HOCO '23)
We invite you to THE Alumni & family TAILGATE
---
Raffle Winners
Football Mom Bogg Bag - Amanda Muffler
Custom Cornhole Bags Set - Sherrie Martini
50/50 - Tom Paquette
Squares - Brian Dose, Paul Durdan, Terry Muffler, Jim Fewell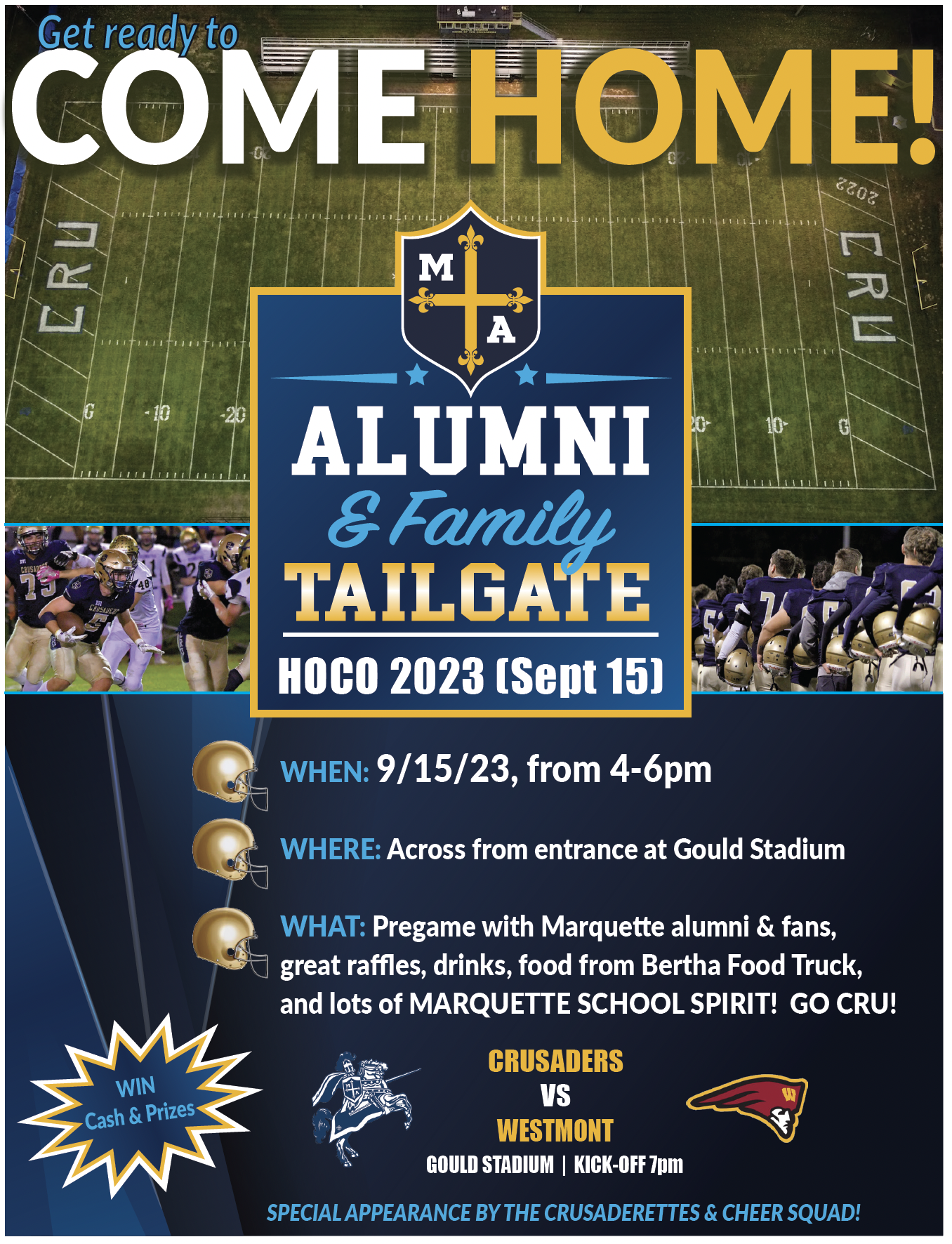 Crusader football is here! Join us Friday, Sept. 15, for Homecoming '23 and tailgate before the big game. Meet across from the entrance at Gould stadium from 4-6pm. Pregame with Marquette alumni, family & fans. Enjoy food from the Bertha Food Truck, purchase drinks, raffle tickets, spirit wear, Homecoming Mums and more! Special performance by the Crusaderettes and Cheer squad. Cheer on the CRU for the big Homecoming game vs. Westmont – kick-off is 7pm at Gould Stadium.
---
Homecoming Mums are BACK!
These beautiful, extra large, decorated mums are all the rage and the perfect gift for your fall athlete, moms and dads, grandparents, siblings, boyfriend/girlfriend and alumni! Show your Marquette pride and celebrate Homecoming '23 in style!
Orders are due by September 8, so don't wait. Pick up your mums on September 14 at MAHS.
Or you can call the school at 815-433-0125 ext. 1016, 1017, or 1018. Cash, check or Venmo accepted - see below.
---
RAFFLES!
Football Mom Bogg Bag Raffle ($425 value!) • Don't miss out on a chance to win a Football Mom Bogg Bag full of goodies! Chances are 1 for $10, or 3 for $20. Contact the Advancement Office or Mrs. Mann at the GS to buy your tickets! Drawing will be held on 9/15/23 at 6pm. Need not be present to win.
Custom Marquette Bags Set ($400 value!) • A piece of Marquette heritage! High quality, custom designed and crafted cornhole bags set constructed using reclaims Marquette High School gym flooring, salvaged in 2011 when the floors were redone in Bader. Regulation size 4' x 2'.
Cash or Venmo (@Marquette-MM) are accepted for these raffles. (Please designate mums, or which raffle you are purchasing if using Venmo.)