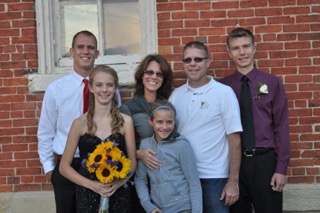 We love Marquette Academy. It has given our children opportunities to grow in their faith lives, to serve others and to be excited about learning and being involved at school.
We want the Catholic life to be their life and at MA, they live it in a variety of enriching ways: the ProLife March, leadership retreats, chastity seminars, weekly Mass, daily prayer, regular confessions, serving at funerals or regular Masses, substantial priestly presence including a dedicated school chaplain, godly faculty members, and prayer and faith interwoven with academics, sports and school events - the list goes on. It's a big part of what MAkes a Difference for us at Marquette Academy.
Supporting and serving others is one of Marquette Academy's outstanding strengths. This is demonstrated inside and outside the classroom. Throughout the year, MA has "dress down days" when uniforms aren't required. On these days, students are encouraged to bring a dollar in support of organizations who provide for others or, on a more personal level, for MA families who are struggling with an illness or accident. We see how these special days help our kids grow in the awareness of others' needs and they feel good about doing something to help.
Athletic teams are often supported with pre-game team dinners and after game snacks by parents and other members of the Marquette family. Coaches encourage athletes to attend visitations for teammates' loved ones. Teams sometimes help families in need with moving or raking leaves. Groups of students often help the school with tasks such as organizing the grade school library during a class room move. Like a healthy family, everybody pitches in to help get the job(s) done. Following a recent flood, after securing MA buildings, students were to asked to knock on doors to see if anyone nearby needed help. Whenever a need arises, MA adults are there to set the example and expectation for its students to be supportive servers of others.
Opportunities for mentoring relationships have helped shape our children. These friendships formed naturally. It's not part of Marquette's curriculum but it is the outcome of the examples that teachers, faculty and MA's extended family set for its students. It brings us much joy to see our older children take on a helping role with other students - just as it was done for them.
Our children enjoy learning and contributing on and off the field at Marquette. The warm, inviting faculty and staff create an atmosphere where our kids look forward to school and they like getting involved. Our high schoolers have the opportunity to take college level classes which helps them better prepare for their future. On sports teams, they have benefited from playing at different levels and have had dedicated, educated and compassionate coaches who have given them opportunities to lead and be positive team players.