Welcome message from our new Chaplain!
July 12, 2021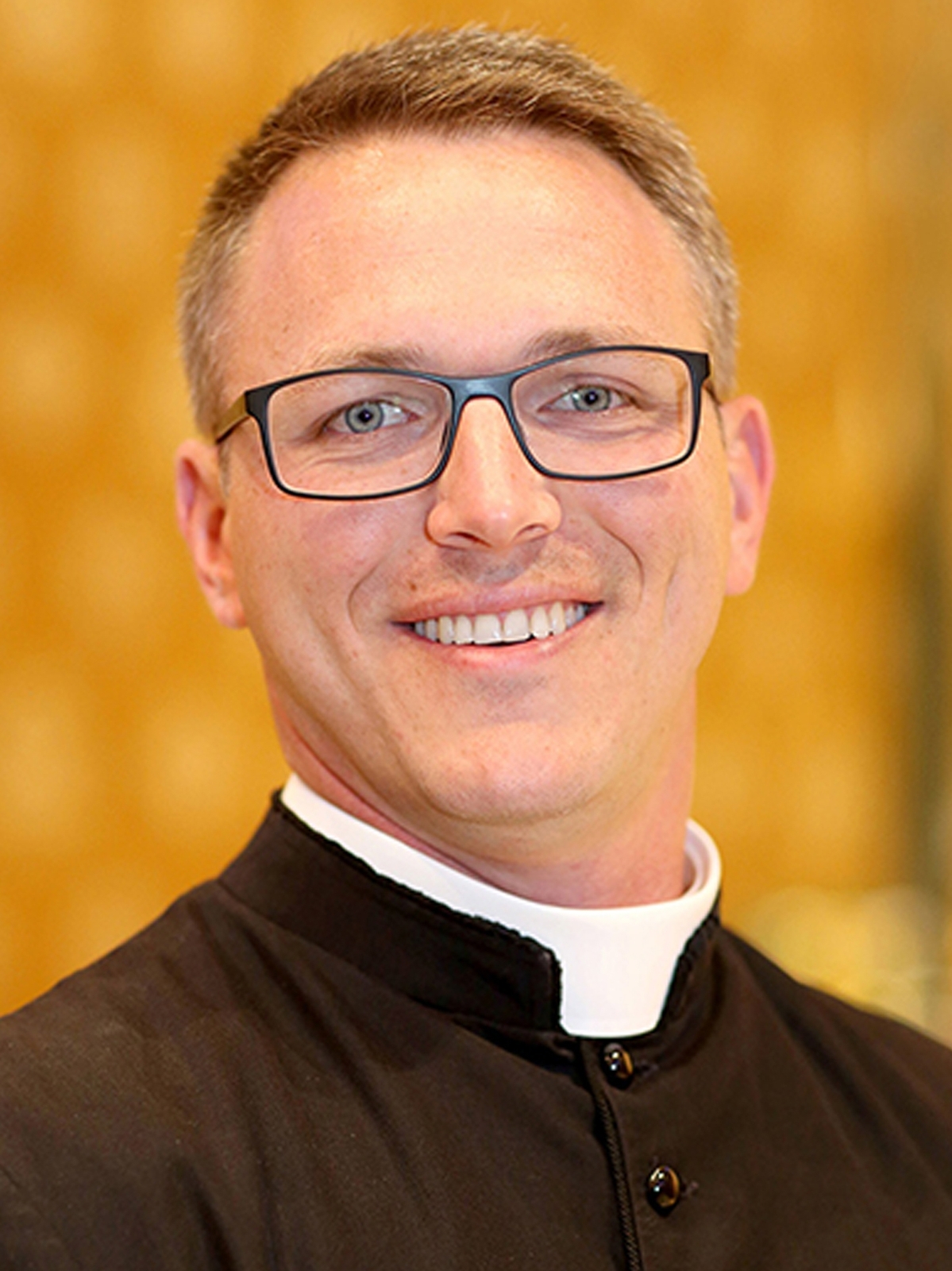 Dear Students, Families, Faculty and Staff of Marquette Academy,
As the newly ordained and newly assigned Chaplain of Marquette Academy and Parochial Vicar at St. Michael the Archangel Parish in Streator, I wanted to take a moment to introduce myself. My name is Fr. Bosse, pronounced "bossy".
I grew up on a beef cattle feedlot outside a small town in Northeast Kansas with two older brothers and an older sister. They are all married and I have twelve nieces and nephews with the thirteenth on the way. Life on the farm never inspired me to desire the priestly life. Don't get me wrong, I am overjoyed to be here as your new priest. If I had my way though, four years ago I would have been moving to work at Frito-Lay Headquarters in Texas. Headquarters in Texas was the only reason why in 2012 I agreed to leave my home and job in Kansas to take a new job running a corn handling facility outside of Champaign, Illinois. Illinois was supposed to be a stepping stone on my path to Texas where there were a bounty of prospective spouses and weather that rarely gets below zero.
The life I had planned and the dreams I created for myself crumbled when I realized that God was calling me to be his priest. Despite my own unworthiness, God called and patiently waited for me to respond freely and completely by giving my life back to Him. On May 29th of this year, with only a small portion of my friends and family present, Bishop Jenky laid his hands upon my head and spoke simple words that forever transformed my life. In a moment, I became committed to living the rest of my life in a state whose winters are worse than Kansas; I was espoused to a 2000-year-old woman whom we call Holy Mother Church; and I became a "Father" to men and women young enough to be my own and old enough to be my grandparents.
The first weeks of priesthood have been a whirlwind filled with joys and blessings; the joys of celebrating the sacraments that make Christ present to His people; the blessings of meeting so many kind and devoted sons and daughters who are seeking to follow Christ. At the same time, there have been unique challenges and difficulties for which seminary formation can never fully prepare you. Throughout all of it, the grace of God has been abundantly present as I have come into this unexpected and truly beautiful new life.
I look forward to meeting you all whether in the school or in the community. I have said it many times since I arrived, my family is five hundred miles from here, so please make me a part of your family. The priest isn't supposed be a stranger or alien to family life, so make me a part of your family.
While I will be teaching Christian Life to our Juniors this year, my role is to be present for all members of our community. The Church tells us that parents are the primary teachers of their children, so if there is anything that you need help in understanding or articulating about the faith, please do not hesitate to reach out to me. God brought me here to aid you and your children on your journey to know, love and serve Him. My hope is to be able to help everyone find the joy that comes from giving your life completely to Him.
With prayers, love and blessings,
Fr. Bosse
Chaplain of Marquette Academy
Parochial Vicar, St. Michael the Archangel
and Sts. Peter and Paul
fraustinbosse@gmail.com