Unmasking our Joy
August 19, 2020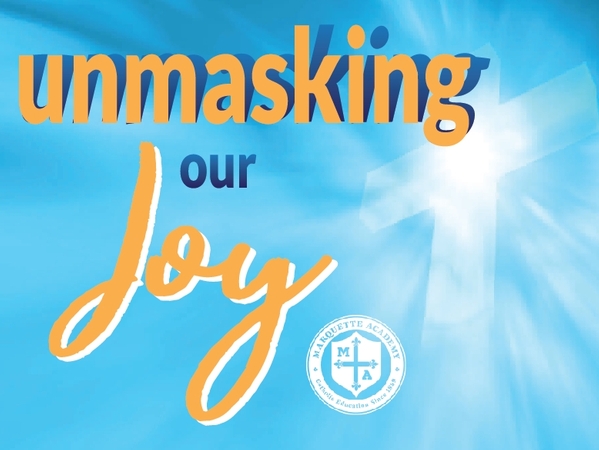 As we begin a new school year, full of challenges we have never faced before, I am sure there is a lot of concern, worry, and fear. I am feeling all of those things as well. Nobody knows what the future will bring, and I am no prophet, but I can almost certainly predict it will involve the unexpected. Nevertheless, we will forge on this year because the mission of Marquette Academy is too important to give up on.
Every man, woman, and child wants the same thing: to be happy. The question we all have to answer as we go through life is what is it that will make us happy? The world proposes that earthly things are all we need; wealth, health, popularity, sports, entertainment, etc… When times are good, we can easily fool ourselves into thinking these things are enough, even if we do have a lingering sense that something crucial is missing. When times are bad, these things fail us, and if they are all we have our happiness fails too.
For 2,000 years, untold multitudes of people have been finding joy even in the midst of a turbulent world. How did they accomplish such a marvelous feat? By fixing their eyes firmly on the one thing that will never fail, the truth that endures forever, Jesus Christ our Lord and savior. This year, as a school community, we will be trying to follow in the footsteps of the men and women of faith who came before us by reminding ourselves of the big picture. Things are hard right now and as a people we are suffering. But we are still the people of God, and He is inviting us into a relationship with Him that will sustain us through every earthly trial and find its ultimate fulfillment in the perfect joy of heaven.
Our theme for this school year is Unmasking our Joy. Christ is always with us, waiting to pour grace into our souls, but often we forget to turn to Him. My great hope is that this year we can discover again how great our God is as a school, a community, and individuals. He is real, He is powerful, and He is good. So we will try to find Him in the good and the bad that we will experience in the coming year. Only then will we have peace and joy that lasts.
---
St. Paul preached the gospel to most of the known world and in the process experienced suffering far beyond anything I have. In the 11th chapter of his second letter to the Corinthians, St. Paul describes some of what he went through:
"Five times I have received at the hands of the Jews the forty lashes less one. Three times I have been beaten with rods; once I was stoned. Three times I have been shipwrecked; a night and a day I have been adrift at sea; on frequent journeys, in danger from rivers, danger from robbers, danger from my own people, danger from Gentiles, danger in the city, danger in the wilderness, danger at sea, danger from false brethren; in toil and hardship, through many a sleepless night, in hunger and thirst, often without food, in cold and exposure."
(2 Corinthians 11:24-27)
And yet, St. Paul is also able to say in the same letter:
"So we do not lose heart. Though our outer nature is wasting away, our inner nature is being renewed every day. For this slight momentary affliction is preparing for us an eternal weight of glory beyond all comparison, because we look not to the things that are seen but to the things that are unseen; for the things that are seen are transient, but the things that are unseen are eternal."
(2 Corinthians 4:16-18)
---
Only a tremendous faith can dismiss so much suffering as a momentary light affliction. St. Paul must have been absolutely convinced that he had found something truly good, something far better than anything else, something worth suffering to obtain. I know my faith is not nearly as strong as St. Paul's. Perhaps you are the same way. This year, let us grow in faith, find our joy, and witness to a world that has forgotten that Jesus Christ is Lord.
Know of my prayers for you all. If there is any way I can be of assistance to you or your family, please don't hesitate to let me know.
St. Paul, pray for us.
Blessed Virgin, our hope, seat of wisdom, pray for us.
In Christ,
Fr. Mattingly
Chaplain