(You do not need a PayPal account to donate. Just fill in the amount and hit the Continue button. This will take you to Marquette's PayPal page but you can choose the button at the bottom that says "Use credit card" and just pay with your own debit or credit card. Thank you.)
TODAY IS THE DAY TO GIVE!
November 29th, Marquette Academy joins in the National Day of Giving … #Giving Tuesday.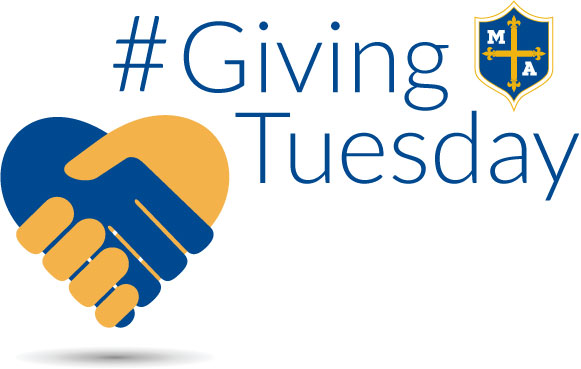 We have all heard of Black Friday and Cyber Monday, but those traditions are really not what the holiday season is about. #GIVING TUESDAY is a chance to help others, to remind ourselves, and those around us, what is really important this time of year…. giving back.

The gymnasium at Marquette serves as the heartbeat for all clubs, sports and activities. Recently, the sound system in the gymnasium came to its untimely end. A new system needs to be put into place. The great part about this cause is that your generous donation will benefit so many different groups of students at Marquette. This new system will help you hear your family member's name called out during Crusader sporting events. It will help you hear the beautiful singing and acting that our fine arts department work for weeks to perform. It will help you hear the name of that special someone get announced as they are handed their diploma. Please consider making a one-time donation online to make sure Crusader voices are heard!

Join the #GIVING TUESDAY trend on Tuesday, November 29th to support Marquette Academy students. Many of you have lent your support in the past to give our students a superior education and beautiful facilities. We are thankful for every gift. All proceeds from #Giving Tuesday will go towards a new sound system in Bader Gym. Thank you for helping to support the mission of Marquette Academy.
Remember to talk to your employer about a matching gift for Marquette Academy on #Giving Tuesday!
Please DONATE to Marquette Academy on Tuesday, November 29th to help with the cost of a new sound system in Bader Gym! We appreciate all gifts, large or small. Thank you for supporting Marquette Academy and its students!