ATTENTION:
Because of the recent developments with COVID-19, the date for May Merriment dinner/auction will likely change. Invitations and raffle tickets are being mailed out soon so you have all the information, but be aware that things will be different. Please keep checking back for more current updates.
---
BIG CASH RAFFLE
May Merriment is our largest annual fundraiser and this raffle continues to be a big part of the event. This raffle is the largest raffle prize give-away in Ottawa! You could win $25,000, $7,000, $2,500, $1,000 or $500!
Purchase your $100 Cash Raffle ticket with a credit card below. Please indicate Cash Raffle in the 'Cause' section. We will confirm your purchase and send your ticket to you. Contact Diane Whalen with questions 815-433-0125 ext. 1018.
*** The drawing will coincide with the postponed date of May Merriment 38 ***
Saturday, May 2, 2020
Marquette May Merriment XXXVIII – The Red Carpet Affair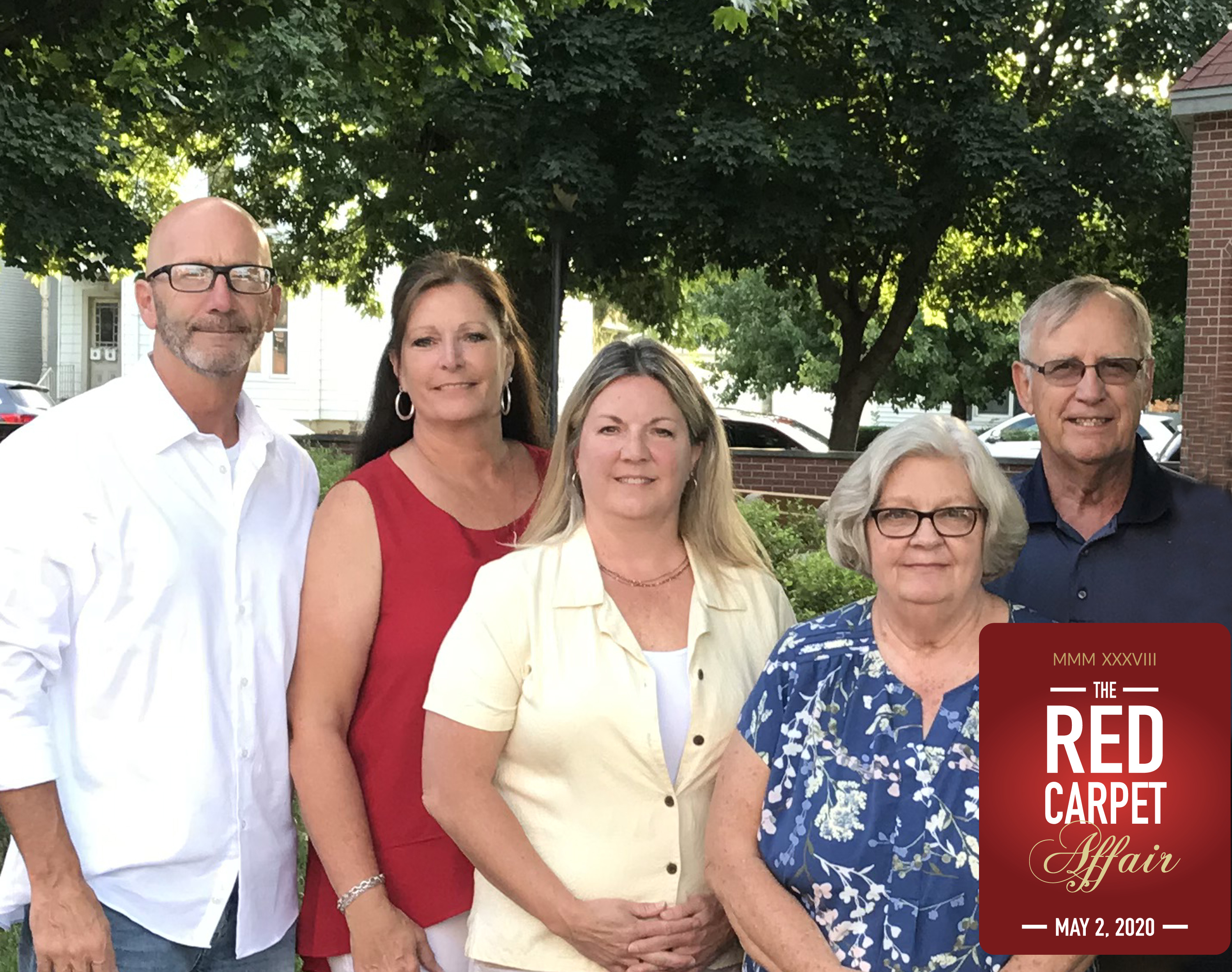 This year's May Merriment Committee:
From left to right: Brian and Sally McCallum, Beth Melvin, Ray and Sandy Kotek (honorary)
---
MMM XXXVIII
Tickets cost $90 per person and include gourmet appetizers and entrée stations, dessert, open bar, bidder number and valet service. Invitations will be mailed in April. To make a reservation call 815-433-0125.
---
How you can contribute:
To sponsor, underwrite, or donate to this year's event, please contact Julie Verona at 815-433-0125 ext. 1017 or email jverona@marquetteacademy.net. Download the donor form here.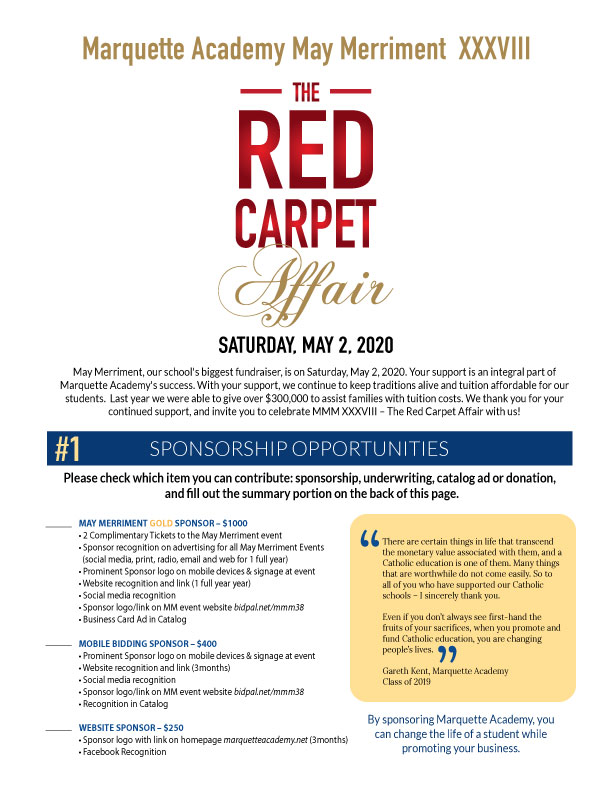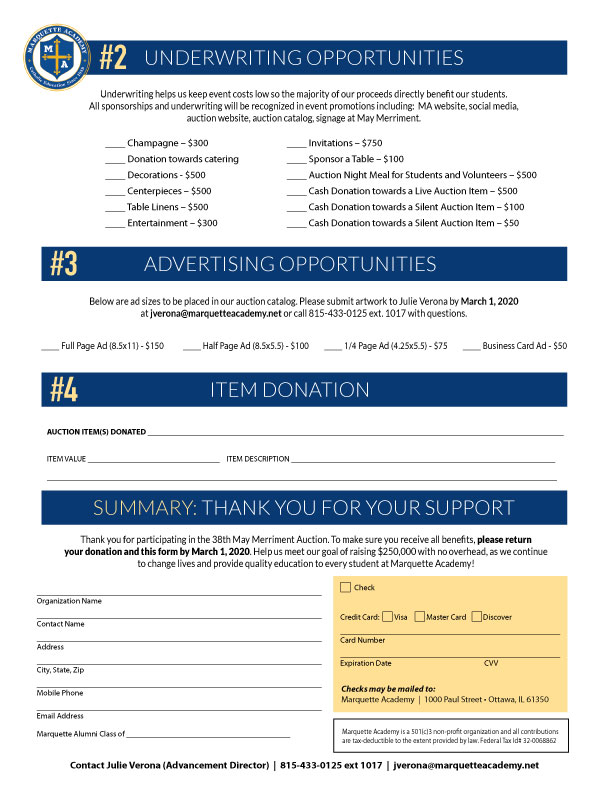 ---
Special thanks to our 2020 GOLD Sponsors:
(Please click the logo below to visit sponsor websites)
WHAT IS MARQUETTE MAY MERRIMENT?
Many of you are quite familiar with the annual auction. Many of you are new to the Academy, and therefore, might not be as familiar. The following will refresh all of our minds about the vitality of this important event.
Thirty eight years ago, Marquette parent and friend Joe O'Brien had an idea for a fundraiser – a gourmet catered formal sit-down dinner with a silent and live auction of merchandise that was donated by the community. That first event took over a year of planning and a very large committee of volunteers. It was a HUGE success. Bader Gymnasium was totally transformed into a Parisian experience and packed with nearly 500 guests. This first dinner/auction netted an unprecedented $112,000 – a substantial amount in 1983. Marquette May Merriment became the talk of the town and was considered the premiere social event in the area. We were the first in the area to stage an event like this. Many local organizations have patterned similar events after this one over the years.
Since inception, the gala has consistently raised an average of $180,000 per year and has netted the Academy nearly $5 million dollars. May Merriment funds directly help students with financial aid for tuition and operating costs of the school. Last year, every freshman who applied for a scholarship or financial aid received assistance.
Many changes have taken place through the years – it has become less formal, however, the dinner price still includes an elaborate gourmet dinner that is served buffet style with an open bar. It is still held in Bader Gym which is converted into an elegantly decorated themed dining room and auction gallery. Auction items and services range in value from $10 to hundreds of dollars. There is certainly something for everyone!
May Merriment is the largest fundraiser at Marquette and still involves hundreds of volunteers. A different theme is chosen each year with formal invitations sent in April. Reservations are open to anyone who wishes to support Marquette Academy and have a fun night out. This year's theme is The Red Carpet Affair.
Call Julie Verona with questions: 815-433-0125 extention 1017.
---
We will again be using mobile bidding to our silent auction portion of the evening. Please visit www.bidpal.net/mmm38 to view items and learn how to bid.
Check-in the night of the event is SO EASY with 3 easy steps:
1. Check-in and register your smartphone (If you do not have a cell phone, there will be mobile bidding buddies at the event to help you bid)
2. Swipe your credit card to pay on your device for quick, easy checkout (you may also pay by check if you choose)
3. Follow the link in the text message you receive and start bidding! BidPal will work best using your own service provider, bidding uses minimal data, 5 hours is equivalent to downloading one song. (You can use your phone's browser or download the app before the event)