MMM38 – The Red Carpet Affair
What a year this has been for us all. The uncertainty of the pandemic has definitely been felt in every aspect of our lives. For the first time in 38 years, we will not be hosting a May Merriment event. Our May Merriment XXXVIII committee (Ray and the late Sandy Kotek, Beth Melvin, Brian and Sally McCallum) and myself have decided that for the safety of everyone, we will be holding a second online auction instead.
Our most important mission here at Marquette Academy is providing a quality Catholic education. MA students continually score higher on local, state, and ACT tests. Plus, our teachers went above and beyond during the stay at home order to ensure that their students stay ahead of the pack. May Merriment is a crucial part of our fundraising efforts and a great way for you to directly benefit students' lives and provide income for the day-to-day expenses of the school. The cost of tuition is actually 53% less than the total cost of educating a student, the school picks up the remaining cost. Marquette Academy acquires money in just three ways: Parish assessments, Tuition, and Fundraising. We are asking you to join in our mission to keep Marquette Academy a leader in education where every student reaches their full potential.
Our last virtual auction in June was very successful, and we are so thankful for all the participation from loyal supporters like you. Our next online auction will be held July 29 at 10:00am, and close on August 1 at 8:30pm. We will draw the winners of our $25,000 Big Cash Raffle and our Full Tuition Raffle on August 1st via live video on Facebook at 8:00pm. At Marquette Academy, we all dream in blue and gold, and thanks to our strong supportive community, we are able to make dreams come true for our students. We hope you will be a part of our ambitious goal for MA students by supporting us in the following ways:
1. PARTICIPATE IN THE RED CARPET VIRTUAL AUCTION July 29 - August 1
We invite you to participate in our virtual auction beginning July 29 at 10:00am through August 1 at 8:30pm. Throw your own Red Carpet Party at home and invite a few friends to participate with you! (AUCTION WEBSITE - www.bidpal.net/mmm38)
2. BIG CASH RAFFLE
Please continue to purchase your chance to win the Big Cash Raffle!! This raffle is an integral part of our May Merriment Fundraiser, with the largest raffle prize give-away in the area! You could win $25,000, $7,000, $2,500, $1,000 or $500!
Purchase your $100 Cash Raffle ticket ONLINE with a credit card HERE. We will confirm your purchase and send your ticket to you. Contact Diane Whalen with questions 815-433-0125 ext. 1018.
Winners will be drawn on August 1 at 8:00pm via Live Video on our Facebook page. Early Bird drawing will be held Friday, July 24, 2020.
3. NEW!! – MA Full Tuition Raffle!
We are selling 125 - $100 chances to win a full year's tuition for the 2020-21 school year. Drawing will be held on August 1 at May Merriment. Full tuition will be applied to one elementary or high school student's tuition (fees not included). Purchase your chance online HERE. Winner will be drawn on August 1 at 8:00pm via Live Video on our Facebook page.
4. Donate a monetary gift in lieu of your reservation ticket
EVERY GIFT MATTERS! Donate online here or mail donations to Marquette Academy at 1000 Paul Street in Ottawa IL 61350.
5. Make a donation to our Fund-a-Need
All donations, large and small are appreciated. Donate online here or mail donations to Marquette Academy at 1000 Paul Street in Ottawa IL 61350.
6. Spread the word about our auction and share the auction link www.bidpal.net/mmm38
---
VIRTUAL AUCTION FAQs
What is a virtual auction? We are making history with our first online auction held July 29 - August 1. We will be featuring amazing auction items, things to do and one of a kind experiences. Raffle tickets can be purchased and donations can also be made. Preview the items at our auction website: www.bidpal.net/mmm38
How do I bid? Just visit www.bidpal.net/mmm38 and log in on your phone, tablet or computer from home. This will create an active profile for you, and when the auction opens on July 29, you will receive a text message allowing you to start bidding! You will be asked to register your credit card for easy checkout on your phone.
What is our goal? May Merriment helps fund operating costs for the school, and keeps dreams alive with tuition assistance for our families. The cost of tuition is actually 53% less than the total cost of educating a student, the school picks up the remaining cost. We need to raise over $200,000 per year to be at our best.
I would like to make a donation. Great! Please download this form and mail your donation to Marquette Academy, 1000 Paul Street, Ottawa IL 61350. Or email jverona@marquetteacademy.net. We will arrange for pickup if necessary.
I already purchased a sponsorship, will it still be honored? YES! We are so thankful for all of our generous SPONSORS, and your existing sponsorship will be applied to the Virtual and Live Events.
Can I share the auction with other people? Please do!! With all the changes we've had to make, spreading the word is the best way for us to get a good response and reach our goals. Share the auction link with friends, neighbors, grandparents and family. www.bidpal.net/mmm38. Also, like and share our social media posts to create excitement about the auction!
How will I get my items if I am the winning bidder on August 1? We will have a curbside pick up at MAHS on Sunday, August 2, from 10am - 1pm. Pickup will be set up at the Washington Street Entrance. Items must be picked up at this time.
---
Thank you to all who have already donated! We understand this is a difficult time for everyone, our school included. If you would still like to contribute, please download the form below.
To sponsor, underwrite, or donate to this year's event, please contact Julie Verona at 815-433-0125 ext. 1017 or email jverona@marquetteacademy.net. Download the donor form here. (All current sponsorships will be honored at the Virtual and Live Event.)
---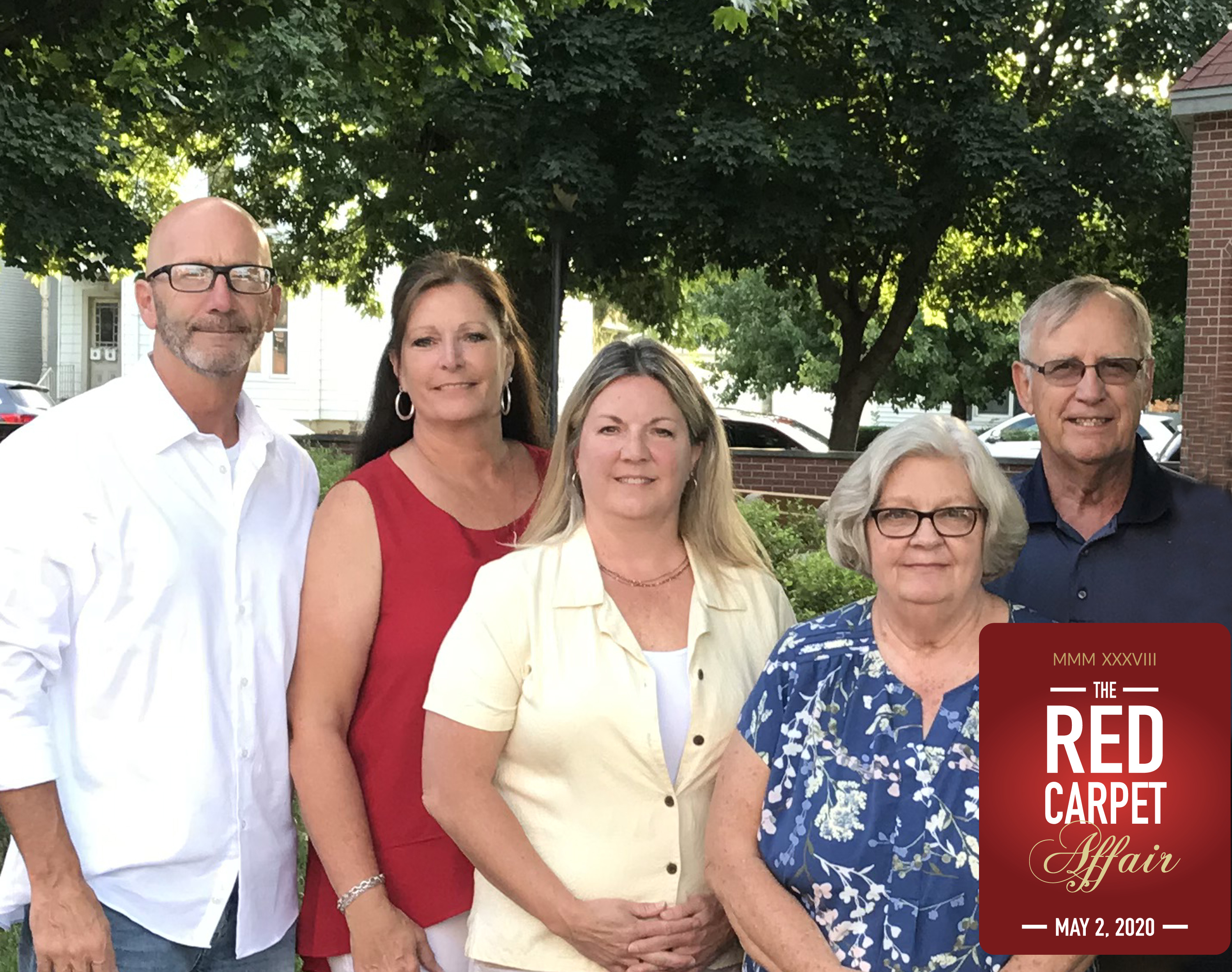 This year's May Merriment Committee:
From left to right: Brian and Sally McCallum, Beth Melvin, Ray and the late Sandy Kotek (honorary)
---
Special thanks to our 2020 GOLD Sponsors:
(Please click the logo below to visit sponsor websites)
WHAT IS MARQUETTE MAY MERRIMENT?
Many of you are quite familiar with the annual auction. Many of you are new to the Academy, and therefore, might not be as familiar. The following will refresh all of our minds about the vitality of this important event.
Thirty eight years ago, Marquette parent and friend Joe O'Brien had an idea for a fundraiser – a gourmet catered formal sit-down dinner with a silent and live auction of merchandise that was donated by the community. That first event took over a year of planning and a very large committee of volunteers. It was a HUGE success. Bader Gymnasium was totally transformed into a Parisian experience and packed with nearly 500 guests. This first dinner/auction netted an unprecedented $112,000 – a substantial amount in 1983. Marquette May Merriment became the talk of the town and was considered the premiere social event in the area. We were the first in the area to stage an event like this. Many local organizations have patterned similar events after this one over the years.
Since inception, the gala has consistently raised an average of $180,000 per year and has netted the Academy nearly $5 million dollars. May Merriment funds directly help students with financial aid for tuition and operating costs of the school. Last year, every freshman who applied for a scholarship or financial aid received assistance.
Many changes have taken place through the years – it has become less formal, however, the dinner price still includes an elaborate gourmet dinner that is served buffet style with an open bar. It is still held in Bader Gym which is converted into an elegantly decorated themed dining room and auction gallery. Auction items and services range in value from $10 to hundreds of dollars. There is certainly something for everyone!
May Merriment is the largest fundraiser at Marquette and still involves hundreds of volunteers. A different theme is chosen each year with formal invitations sent in April. Reservations are open to anyone who wishes to support Marquette Academy and have a fun night out. This year's theme is The Red Carpet Affair.
Call Julie Verona with questions: 815-433-0125 extention 1017.
---
We will again be using mobile bidding to our silent auction portion of the evening. Please visit www.bidpal.net/mmm38 to view items and learn how to bid.
Check-in the night of the event is SO EASY with 3 easy steps:
1. Check-in and register your smartphone (If you do not have a cell phone, there will be mobile bidding buddies at the event to help you bid)
2. Swipe your credit card to pay on your device for quick, easy checkout (you may also pay by check if you choose)
3. Follow the link in the text message you receive and start bidding! BidPal will work best using your own service provider, bidding uses minimal data, 5 hours is equivalent to downloading one song. (You can use your phone's browser or download the app before the event)