Marquette May Merriment XL
Save the date for Saturday, May 7, 2022 for the 40th annual dinner/auction - MMM XL - The Greatest Show, Celebrating 40 years!
This year's committee is as follows from left to right: Nancy & Dan Duchon, Ellen & Tom Jobst (Honorary), and Paul & Breck Craig.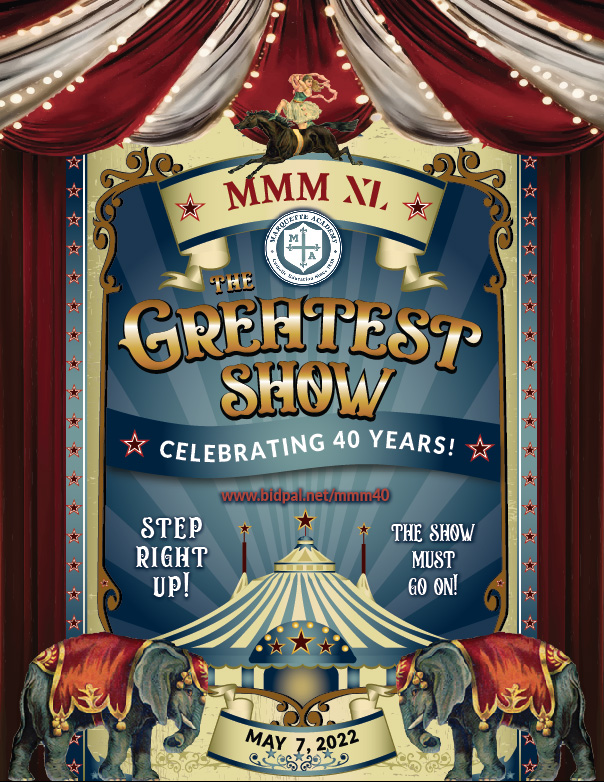 WHAT IS MARQUETTE MAY MERRIMENT?
Many of you are quite familiar with the annual auction. Some of you are new to the Academy, and therefore, might not be as familiar. The following will refresh all of our minds about the vitality of this important event.
Forty years ago, Marquette parent and friend Joe O'Brien had an idea for a fundraiser – a gourmet catered formal sit-down dinner with a silent and live auction of merchandise that was donated by the community. That first event took over a year of planning and a very large committee of volunteers. It was a HUGE success. Bader Gymnasium was totally transformed into a Parisian experience and packed with nearly 500 guests. This first dinner/auction netted an unprecedented $112,000 – a substantial amount in 1983. Marquette May Merriment became the talk of the town and was considered the premiere social event in the area. We were the first in the area to stage an event like this. Many local organizations have patterned similar events after this one over the years.
Since inception, the gala has consistently raised an average of $180,000 per year and has netted the Academy nearly $5 million dollars. May Merriment funds directly help students with financial aid for tuition and operating costs of the school. Last year, every freshman who applied for a scholarship or financial aid received assistance.
Many changes have taken place through the years – it has become less formal, however, the dinner price still includes an elaborate gourmet dinner that is served buffet style with an open bar. It is still held in Bader Gym which is converted into an elegantly decorated themed dining room and auction gallery. Auction items and services range in value from $10 to hundreds of dollars. There is certainly something for everyone!
May Merriment is the largest fundraiser at Marquette and still involves hundreds of volunteers. A different theme is chosen each year with formal invitations sent in April. Reservations are open to anyone who wishes to support Marquette Academy and have a fun night out. This year's theme is The Greatest Show – Celebrating 40 Years!
Call Julie Verona with questions: 815-433-0125 extention 1017.