September 16,2022 (HOCO '22)
We invite you to THE Alumni & family TAILGATE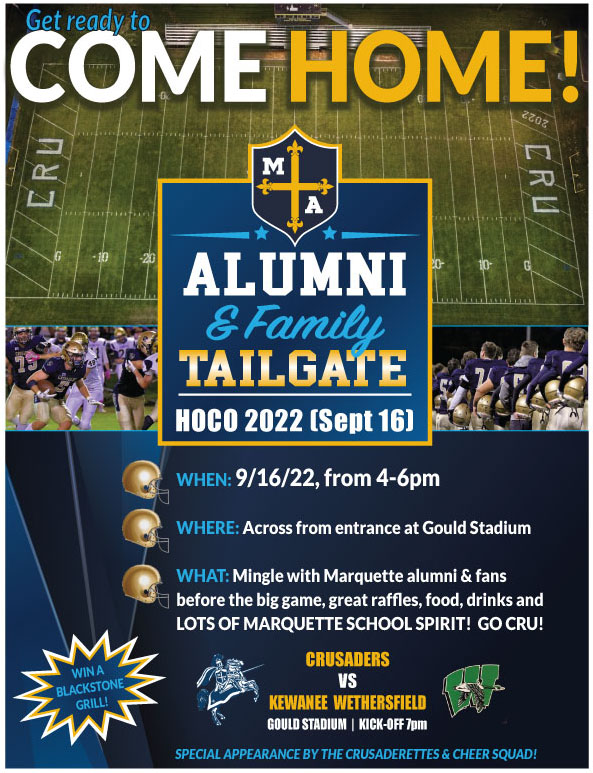 GET READY TO come HOME!
Marquette Academy's Alumni & Family Tailgate is the best time to connect with friends, old and new, and share your Crusader pride with family of all ages!
Friday • 9-16: Tailgate with the Marquette Family from 4-6:00pm before cheering on the CRU for the big Homecoming game vs. Kewannee Wethersfield. Kick-off is 7pm at Gould Stadium. Entrance for the Tailgate is across from the Ticket Gate at Gould. Mingle with Marquette alumni & fans before the big game! Great raffles, food, drinks and lots of school spirit! We will be grilling up delicious smash burgers with chips. Or snack on Muffy's home-made chips and salsa. Cash only.
Blackstone Grill Raffle • Don't miss out on a chance to win a Blackstone Grill with a $100 gift card to Handy Foods! Chances are 1 for $10, or 3 for $20. Contact the Advancement Office, Mrs. Mann at the GS, or stop by Berta's or Muffy's to buy your tickets! Drawing will be held on 9/16/22 at 6pm. Need not be present to win. Cash or Venmo (@Marquette-MM) accepted for this raffle: