Donate to Marquette Academy Annual GIFT Fund here. Use the above PayPal Portal, or venMO us @ Marquette-MM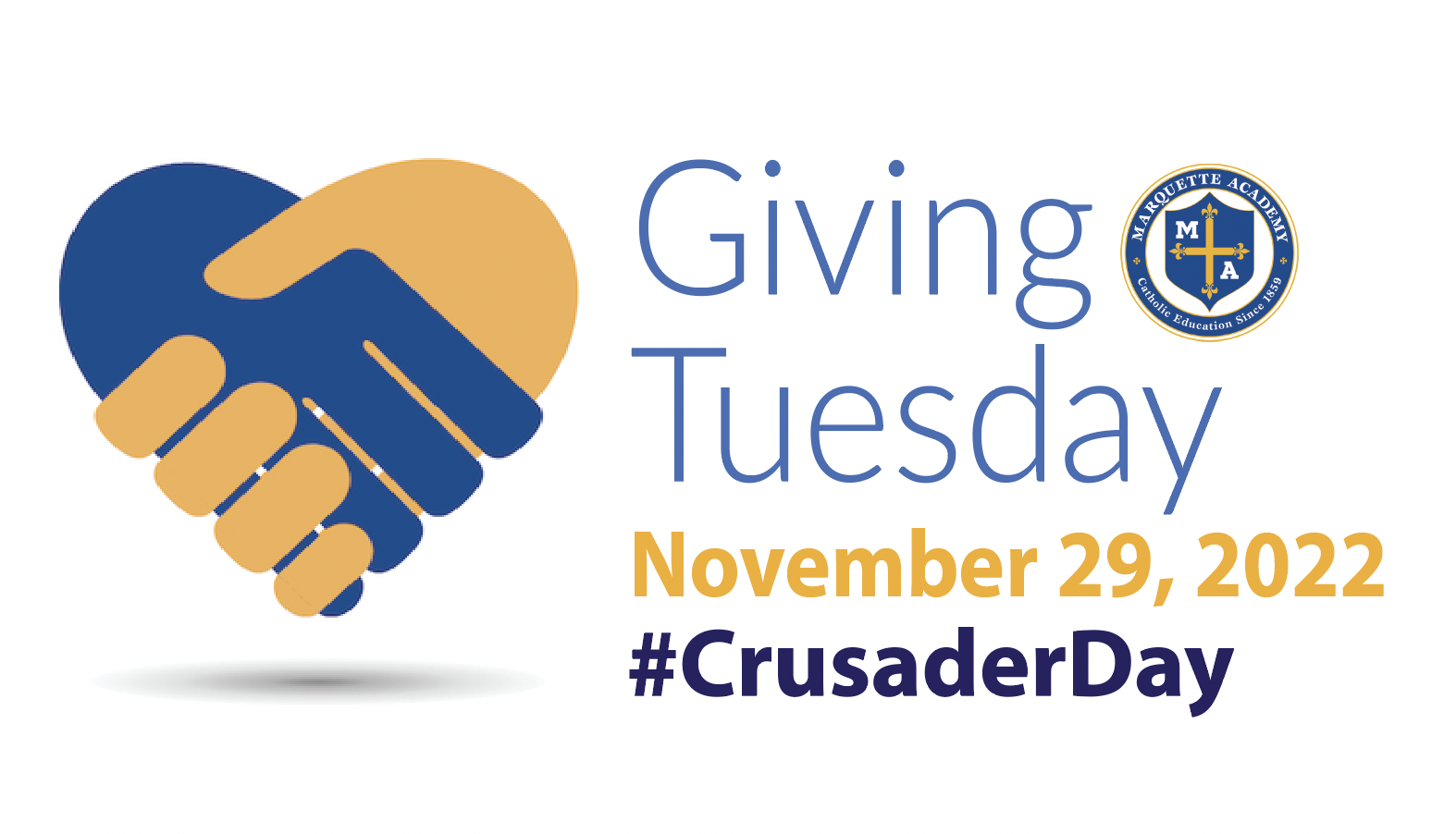 When you give to Marquette Academy, you are continuing the long tradition of academic excellence based in faith and virtue. Join us for #CrusaderDay on Giving Tuesday.
Giving Tuesday is a global generosity movement held on November 29, 2022. Along with millions of others on this day, you can support a cause that makes a difference in the community.
Thank you for your support.
Please type Annual Appeal into the "Memo Section" below. You can continue to the payment section without having a PayPal account. After you select the pay using PayPal button, you will be taken to the secure PayPal page, then just choose "use debit or credit card" option instead of logging into a PayPal account.
---

Download the 2022-23 Annual Appeal
In addition to affordable tuition and fees collected from our families, Marquette Academy relies on contributions from parish assessments, grants, scholarships, memorials and estate gifts, Athletic Go Club activities, and fundraisers managed by our Development Office to exist. Additionally, monetary donations from alumni and friends on an annual basis help to keep us in the "red". Last year, our Revenue exceeded our Expenses by slightly over $205,000. The Marquette Society Annual Gift Fund Appeal raised almost half of this excess amount.
Your contribution to this appeal is vitally important! We ask you to consider giving what you can to help Marquette Academy continue to thrive and prosper in the present and in the future. Our Goal is $100,000.
What many contributions have done for our recent PAST
Our current debt to the Diocese of Peoria is paid in full
Baseball became the first HS team State Champion in City of Ottawa history
All classrooms have been provided with Smart Boards
Security cameras have been enchanced
2 of our recent graduates are currently seminarians in the Peoria Diocese
What contributions are doing for our PRESENT
A keyless entry security system will be installed in 2023. Safety is a priority
We are providing $268,000 in financial aid to families
Wyatt Hettel, Class of 2019 graduated from DePaul University in 3 years because of the IVCC Running Start program at Marquette. He is now teaching History and Religion at the High School
Students are on track to provide hundreds of hours of service to the Community with the required Christian Service program
2 new buses have been leased at a cost of $30,000 annually.
2 high-tech touch screen white boards have been installed at the High School
We are enjoying necessary comforts: A new hot water heater was installed ($9,000), Ovens in the cafeteria have been replaced ($16,000)
What YOUR contribution can help to do for our FUTURE
A family-oriented social environment will always be a part of Marquette
We will continue to work diligently to increase enrollment
Facilities will continue to be maintained, upgraded and kept safe
We will provide up-to-date educational materials for our teachers and students
Quality, highly educated teachers and staff will be the norm
Our mission is to cooperate with parents to educate and form joyful disciples of Jesus Christ
TRADITIONS ARE EMBRACED. DEDICATION IS THE NORM. EXCELLENCE IS THE EXPECTATION.
---
Only with the continuing support of all of our alumni, benefactors and friends including you, is this mission possible.
Please consider making a contribution this year to our Annual Gift Fund. In exchange for your generous donation, we promise to do all we can to continue to provide a great value-based education to the students who are the future of our world.
Your assistance and generosity is very much valued and appreciated. Thank you!
---
The Marquette Society is an elite group of alumni, alumni parents, grandparents and friends who along with our Corporate Partners provide financial support for the advancement of the mission of Marquette Academy High School. The dollars received each year are a major source of income that provides support to the operating budget.
The Campaign runs from early autumn to June 30th each year. Membership in the Society is renewed on an annual basis and new members are always welcome.
| | |
| --- | --- |
| KEY FOR GIVING LEVELS: | |
| Corporate Society Partner | $1,000 |
| Corporate Ambassador Partner | $5,000 |
| Corporate Legacy Partner | $10,000 |
| 1000 Paul Street Club | $10,000 and over |
| Shield Club | $5,000-$9,999 |
| Victory Club | $2,500-$4,999 |
| Principal's Club | $1,000-$2,499 |
| Sisters of Mercy Club | $750-$999 |
| Ambassadors Club | $500-$749 |
| Crusaders Club | $250-$499 |
| Gold Club | $100-$249 |
| Dukes Club | $1-$99 |
To contribute to the Annual Gift Fund look for your mail, or contact:
Diane Whalen
Annual Fund Coordinator
815-433-0125 ext. 1018
Checks can be mailed to:
Marquette Academy
1000 Paul Street
Ottawa, IL 61350