Donate to Marquette Academy Annual GIFT Fund here.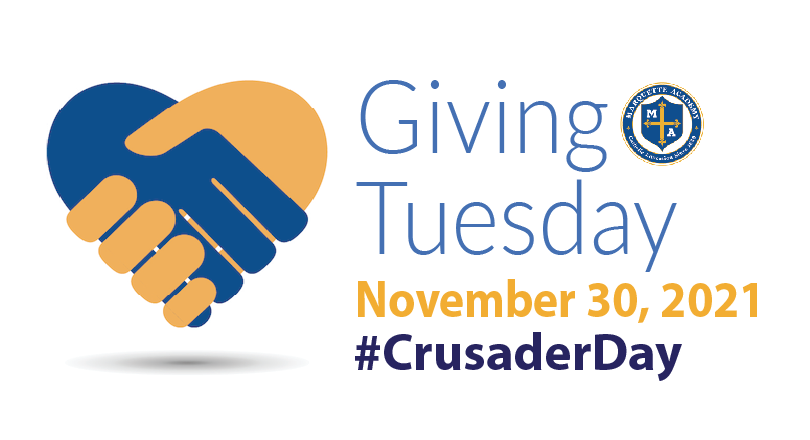 When you give to Marquette Academy, you are continuing the long tradition of academic excellence based in faith and virtue. Join us for #CrusaderDay on Giving Tuesday.
Giving Tuesday is a global generosity movement held on November 30, 2021. Along with millions of others on this day, you can support a cause that makes a difference in the community.
Thank you for your support.
Please type Annual Appeal into the "Memo Section" below. You can continue to the payment section without having a PayPal account. After you select the pay using PayPal button, you will be taken to the secure PayPal page, then just choose "use debit or credit card" option instead of logging into a PayPal account.
---

Do you remember? Of course you do…
Typing class with Mr. Flavel. Going up to the 5th Floor. Decorating Homecoming floats. Your Prom date.
Your first date. The best Spring Musicals EVER. Regional champion basketball teams. Milkshakes in the cafeteria.
Mass in the chapel. Dissecting a frog. The haunting nun. The Crazy Cru. Giving your first speech.
Dress code violations. Marquette vs. Ottawa. Interim trips. Your senior retreat. Your big brother or sister.
Friday night football. Bus rides. Morning prayer. Skipping class. Pickleball tournaments. Making lifelong friends.
Many of these memories and more were made during your years at Marquette. It is hoped that they were all good ones for you. Students today and in the future are making memories, because at Marquette, "traditions are embraced". It is important that these traditions and excellence in Catholic education be kept alive.
Only with the continuing support of all of our alumni, benefactors and friends including you, is this mission possible.
Please consider making a contribution this year to our Annual Gift Fund. In exchange for your generous donation, we promise to do all we can to continue to provide a great value-based education to the students who are the future of our world.
The funds will be used to:
Maintain a clean, healthy, safe environment at our campuses
Keep up with current technology trends and updates for our faculty and students
Provide financial aid to families in need
Supplement the general fund where the need is the greatest
Your assistance and generosity is very much valued and appreciated. Thank you!
---
The Marquette Society is an elite group of alumni, alumni parents, grandparents and friends who along with our Corporate Partners provide financial support for the advancement of the mission of Marquette Academy High School. The dollars received each year are a major source of income that provides support to the operating budget.
The Campaign runs from early autumn to June 30th each year. Membership in the Society is renewed on an annual basis and new members are always welcome.
| | |
| --- | --- |
| KEY FOR GIVING LEVELS: | |
| Corporate Society Partner | $1,000 |
| Corporate Ambassador Partner | $5,000 |
| Corporate Legacy Partner | $10,000 |
| 1000 Paul Street Club | $10,000 and over |
| Shield Club | $5,000-$9,999 |
| Victory Club | $2,500-$4,999 |
| Principal's Club | $1,000-$2,499 |
| Sisters of Mercy Club | $750-$999 |
| Ambassadors Club | $500-$749 |
| Crusaders Club | $250-$499 |
| Gold Club | $100-$249 |
| Dukes Club | $1-$99 |
To contribute to the Annual Gift Fund look for your mail, or contact:
Diane Whalen
Annual Fund Coordinator
815-433-0125 ext. 1018
Checks can be mailed to:
Marquette Academy
1000 Paul Street
Ottawa, IL 61350