Donate to Marquette Academy Annual GIFT Fund here.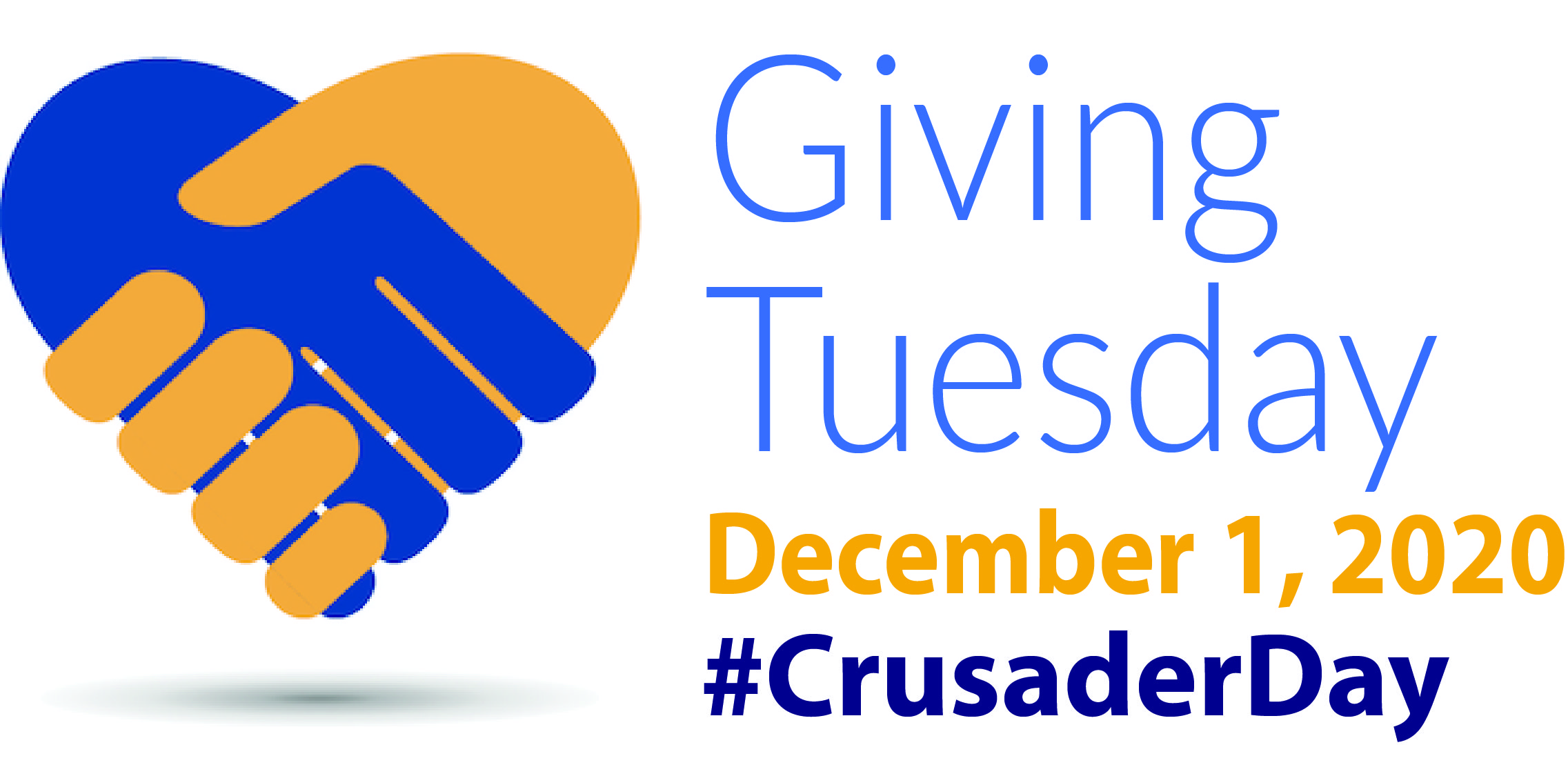 When you give to Marquette Academy, you are continuing the long tradition of academic excellence based in faith and virtue.
We invite you to embrace this journey with us, and help us overcome. Join us for #CrusaderDay on Giving Tuesday.
Giving Tuesday is a global generosity movement held on December 1, 2020. Along with millions of others on this day, you can support a cause that makes a difference in the community.
Thank you for your support.
Please type Annual Appeal into the "Memo Section" below. You can continue to the payment section without having a PayPal account. After you select the pay using PayPal button, you will be taken to the secure PayPal page, then just choose "use debit or credit card" option instead of logging into a PayPal account.
---
OVERCOMING CHALLENGE
Challenge - to face an obstacle. When you've faced a challenge in life, you learn more about yourself. You learn what you are made of, what you can handle, how you react to something distressing, how strong you are and realize when you need to ask for help.
In early 2020, we all faced a major challenge that we are still dealing with today.
In March, a Global Pandemic caused us to suddenly and unceremoniously shut down our school. Our students missed out on big teenage life events such as Prom, Baccalaureate Mass, Graduation, Spring Musical, Fine Arts Festival and Sports. Our largest fundraising event, May Merriment 38, was scaled back to an online auction, and large gathering fundraisers for the fall of 2020 have been postponed. In true Marquette fashion, our family quickly came together to face the challenge. In a matter of days, our administration and faculty put into motion a plan to launch our Virtual School. With the use of the Google Classroom and other online learning platforms, we were able to continue the education of our students, barely missing a beat. We became the leaders in the community in this endeavor, and other schools were following our lead. Our teachers became a support system for their students, and were still instilling Christian values and prayer in their daily lessons.
During the summer, our administration worked diligently with the Diocese of Peoria to implement a re-opening plan. Following all protocols of the LaSalle County Health Department, the CDC and the State of Illinois, we opened for safe in-house learning on August 19th. Our model is not hybrid, but families were given a choice of using the Virtual Academy and a handful of them are. Teachers are in the classroom teaching students face to face and virtually. Again, they are going above and beyond. As always, our day and every class starts with a prayer to almighty God to give us strength and see us through.
It is because of the past financial support of our Marquette family that we have been able to survive this challenge.
We are strong, but we realize the need to ask for help. Your contribution to the 2020-2021 Gift Fund will assist us in the following endeavors:
Maintain and upgrade our technology to provide our teachers with the proper tools to teach.
Provide financial aid to families who value the Marquette Christian environment.
Purchase necessary supplies to maintain a clean, healthy, safe campus.
To supplement major fundraisers that have been curtailed.
Why Give?
You can be a champion on K-12 Catholic education. Whether you have ever attended Catholic schools – whether you have children or grandchildren in Catholic schools – whether you're Catholic or not – consider supporting an education filled with virtue and value. Your gift will help us overcome these tough times in true Crusader form!
Testimonial
"I wanted to take a moment to say how impressed I am with the job Marquette has done throughout all of this.
I have a lot of interactions with other schools, and employees who are parents in districts around the Midwest. Marquette is far ahead of the pack, and you should be incredibly proud of the job you(Principal Rick) and all of your staff have done.
My kids have adjusted very well and the support from their teachers has been excellent and prompt.
Thank you for helping to make sending my children to Marquette one of the best, and easiest decisions I ever make."
Ryan Reynolds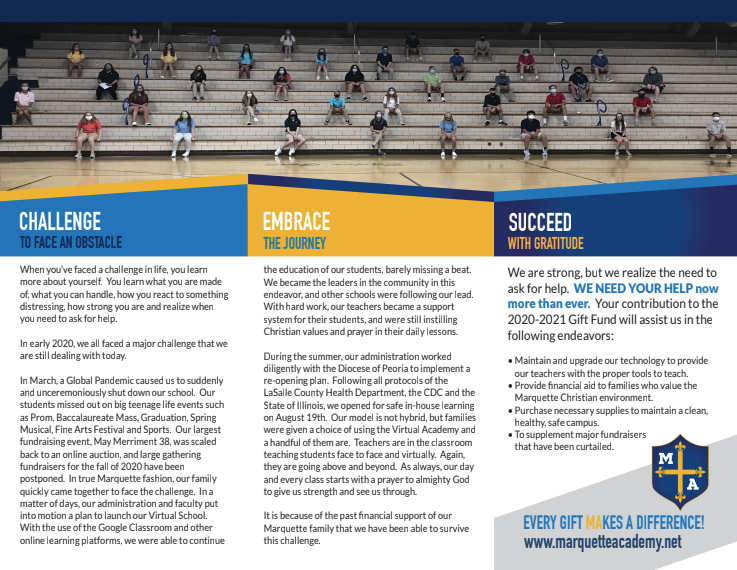 ---
The Marquette Society is an elite group of alumni, alumni parents, grandparents and friends who along with our Corporate Partners provide financial support for the advancement of the mission of Marquette Academy High School. The dollars received each year are a major source of income that provides support to the operating budget.
The Campaign runs from early autumn to June 30th each year. Membership in the Society is renewed on an annual basis and new members are always welcome.
| | |
| --- | --- |
| KEY FOR GIVING LEVELS: | |
| Corporate Society Partner | $1,000 |
| Corporate Ambassador Partner | $5,000 |
| Corporate Legacy Partner | $10,000 |
| 1000 Paul Street Club | $10,000 and over |
| Shield Club | $5,000-$9,999 |
| Victory Club | $2,500-$4,999 |
| Principal's Club | $1,000-$2,499 |
| Sisters of Mercy Club | $750-$999 |
| Ambassadors Club | $500-$749 |
| Crusaders Club | $250-$499 |
| Gold Club | $100-$249 |
| Dukes Club | $1-$99 |
To contribute to the Annual Gift Fund look for your mail, or contact:
Diane Whalen
Annual Fund Coordinator
815-433-0125 ext. 1018
Checks can be mailed to:
Marquette Academy
1000 Paul Street
Ottawa, IL 61350