Tax Deduction Forms:
Education Tax Credit Receipt
Taxes and FACTS Instructions
After Care Tax Receipt
---
Empower Illinois Tax Credit Scholarship
Reservation Night 2020
As a reminder, reservations for a 2020-2021 Empower Illinois tax credit scholarship will open on Wednesday, January 15, 2020.
Like last year, the application process will include two steps: a reservation and an application.

Parents who applied for a 2019 scholarship should have received an email from Empower Illinois reminding them to use the same email as last year to log into their EmpowerXChange portal to complete the application.
This year, the reservation will form will be available at 6:30pm, to give families time to enter their information before submission at 7pm. More information about preparing for reservation night can be found on our website under, "How Do I Apply."
2020-2021 Application
The 2020-2021 scholarship application will be available on Friday, January 17. Families who have completed their reservation by 9 a.m. on Thursday, January 16 will receive an email from Empower Illinois on Friday morning notifying them the application is live. If families complete their email after this date and time, they will receive their notification email the following week.
---
The new application will be available through the Empower Illinois website. It will be a two-step process.
More information, including helpful documents, FAQs and instructions, can be found on our website.
---
Click the video to learn how to apply.
---
Or for more instruction, download this helpful Pdf file
---
TAX CREDIT TUITION PROGRAM
Redirect your tax dollars to Marquette Academy today! Empower Illinois connects Tax Credit Scholarship Donations to Illinois students whose education opportunities may be limited by household income. By donating to Empower Illinois, you can help make a child's dreams come true.
WHY GIVE?
Empower Illinois wants to change the way families choose schools for their children. Students only get one chance at a quality education, and financial constraints shouldn't affect that. When you donate to Empower Illinois, you allow a child to receive a high-quality education that will prepare them for a successful future. They can't do it without you.
Below are some helpful informational pdf files for Donors and Students.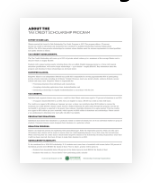 For more information, visit www.empowerillinois.org