Empower Illinois Tax Credit Scholarship
---
MA Parents - Info for your tax return
---
---
2021-2022 TCS Opens January 15, 2021.
Reservations for a 2021-2022 Empower Illinois tax credit scholarship will open, January 13 at 6:30pm.
Like last year, the application process will include two steps: a reservation and an application.
Families should visit Empowerillinois.org to find the reservation page link. Families do not make their tax credit scholarship reservations by logging into their EmpowerXChange portal.

The reservation form will be available at 6:30pm to give families time to enter their information before submission at 7pm. More information about preparing for reservation night can be found on our website under, "How Do I Apply."

Families who have previously completed a tax credit scholarship application through the EmpowerXChange portal should use the same email address when making their reservation.
2021-2022 Application
The 2021-2022 scholarship application will be available on Friday, January 15. Families who have completed their reservation by noon on Thursday, January 14 will receive an email from Empower Illinois on Friday morning notifying them the application is live. If families complete their reservation after 12pm on Thursday, they will receive their invitation to complete the application within one business day.

Application Questions
If a family has reached out to your school with questions about the application process, please direct them to our Scholars Helpline (309-416-0741, scholars@empowerillinois.org), open from 7 a.m. to 6 p.m., Monday-Friday. If they completed the reservation, but have not yet received an email inviting them to complete the application, please have them call to confirm their reservation is on file.

Application Previews and Guides
---
IMPORTANT DATES:
January 15: 2021-2022 Application Opens
After reserving their place in line, families will receive an email within 48 hours inviting them to complete a 2021-2022 tax credit scholarship application. Families cannot start their application before Friday, January 15. Beginning on January 15, you will see students who selected your school as one of their priority choices listed in your school's EmpowerXChange Portal.

January 22: Deadline to Complete 2021-2022 SPA
School Participation Agreements (SPA) for the 2021-2022 school year opened on Monday, January 11 and must be completed by Friday, January 22, before awarding begins at the end of January. This form will ask for your school's standard tuition rate for the 2021-2022 school year. The amount on the SPA is used to reserve funds for scholarships. Please begin planning your tuition and fees for the upcoming school year so we can issue scholarships to your school if you have available funds. For step-by-step instructions on how to complete your school's SPA, click here.

January 25: Recommended Date to Complete the Application
For the best chance at receiving a 2021-2022 tax credit scholarship, it is recommended that families complete their application by January 25, although the application will remain open until October 2021.

January 29: First 2021-2022 Scholarship Awarded
The first tax credit scholarship of the 2021-2022 school year will be awarded on January 29. Awarding will continue through December 2021 as funds become available.
---
The new application will be available through the Empower Illinois website. It will be a two-step process.
More information, including helpful documents, FAQs and instructions, can be found on our website.
---
Click the video to learn how to apply.
---
Or for more instruction, download this helpful Pdf file
---
TAX CREDIT TUITION PROGRAM
Redirect your tax dollars to Marquette Academy today! Empower Illinois connects Tax Credit Scholarship Donations to Illinois students whose education opportunities may be limited by household income. By donating to Empower Illinois, you can help make a child's dreams come true.
WHY GIVE?
Empower Illinois wants to change the way families choose schools for their children. Students only get one chance at a quality education, and financial constraints shouldn't affect that. When you donate to Empower Illinois, you allow a child to receive a high-quality education that will prepare them for a successful future. They can't do it without you.
Below are some helpful informational pdf files for Donors and Students.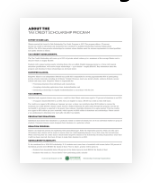 For more information, visit www.empowerillinois.org