Empower Illinois Tax Credit Scholarship
---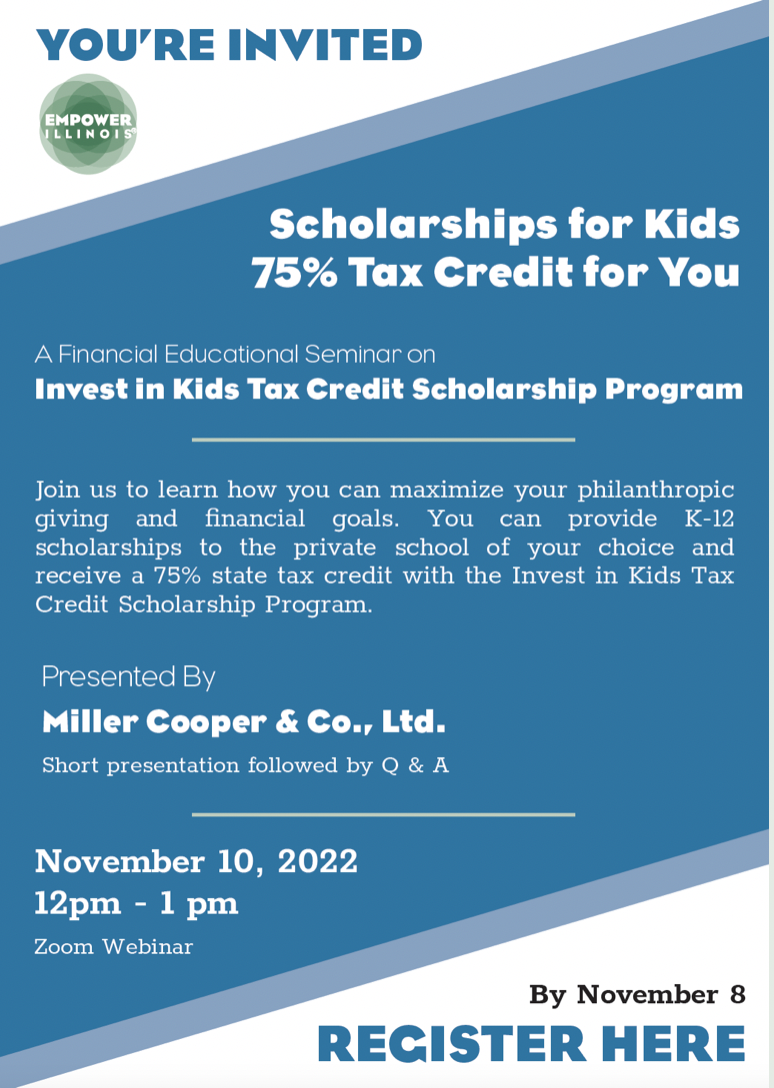 Donors are invited to join a free online seminar on November 10!
The Empower Illinois partners at Miller Cooper & Co. Ltd., the 10th largest accounting firm in the Chicago area, are hosting a webinar about the financial benefits of investing in kids through tax credit scholarships on November 10 at 12pm.

This free presentation will cover an overview of the program and FAQs about claiming a tax credit after giving.

RSVP here.
---
Tax Information for MA Parents
If you have questions, please contact Lisa Tenut, Business Manager, at 815-433-0125 ext. 1012. ltenut@marquetteacademy.net
Or reach out to Empower Illinois at schools@empowerillinois.org or 800-616-7606 with questions.
---
Donors can provide direct scholarships for low-income K-12 students and receive a powerful 75% credit on their Illinois state taxes through the Invest in Kids Tax Credit Scholarship (TCS) program. 100% of recipients qualify based on need and 95% of donations go directly to scholarships.
Empower Illinois is the state's largest Scholarship Granting Organization (SGO) that can administer this program.
---
The new application will be available through the Empower Illinois website. It will be a two-step process.
More information, including helpful documents, FAQs and instructions, can be found on the website.
---
TAX CREDIT TUITION PROGRAM
Redirect your tax dollars to Marquette Academy today! Empower Illinois connects Tax Credit Scholarship Donations to Illinois students whose education opportunities may be limited by household income. By donating to Empower Illinois, you can help make a child's dreams come true.
WHY GIVE?
Empower Illinois wants to change the way families choose schools for their children. Students only get one chance at a quality education, and financial constraints shouldn't affect that. When you donate to Empower Illinois, you allow a child to receive a high-quality education that will prepare them for a successful future. They can't do it without you.
For more information, visit www.empowerillinois.org