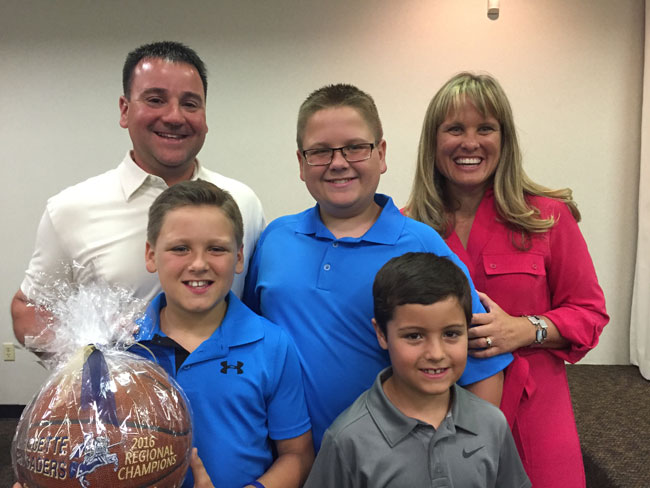 Marquette is very special to our family. We are thrilled that our children are able to continue to experience the greatness of this school and continue the path that our family has taken as the fourth generation. As parents, we are amazed at how far Marquette has come from when we went to school there in 1994. There are so many opportunities. It truly is faith based education with a family atmosphere.
Marquette is family. It is an awesome feeling. The more you put in, the more you will get out of your experience. We attend the high school and grade school sporting events and plays. Marquette has several fundraisers where the whole family can enjoy. We volunteer to help when needed. Taking part in all the opportunities, we have been blessed to meet many families from both the grade school and high school.
Having the school provide preschool through senior year of high school presents an amazing family based atmosphere. Though the grade school and high school are separate, the students have opportunities to work with the older students and have role models and mentors. The high school students come to the grade school to work with students or to help with projects. The grade school students go to the high school to use their chemistry lab or to watch the older kids perform in plays or Fine Arts. They join together for all school mass and pray together. The school aides in creating the family feeling for the kids.
Our boys and their friends have had some truly special experiences with the high school boys. They look up to the them. The high school boys know that the boys and their friends adore them as they cheer for them on the sidelines at the sporting events. The high school boys do not take it for granted. You see them make a point to go and talk to them, give them high fives and knuckles before their games start or when it's over. You see the high school boys attend the grade school games to cheer them on or show up at the baseball diamonds in the summer to watch them play. It is such a special bond! One that we have never witnessed before! It is a bond that is created by the kids that is sincere and simply remarkable!!
We have also had the blessing to have a high school student come to our house as a tutor for my son for Math. They built such a friendship, that he was my son's Confirmation sponsor. Marquette is family!
Marquette is family as a whole, but we also do many service projects to help others. Between saving pop tops for Ronald McDonald House, having dress down days to collect money for families in need, going to serve at Feed my Starving Children, visiting the elderly at Herritage Woods, the list goes on and on. Marquette is not only preparing our children for the future, they are teaching them to go into the world and do good for others.
As you can see, our experience thus far has been exceptional. The teachers are wonderful and teach the kids from the start that "We are family." We hear it, we see it, and we believe it!
Marquette is an investment. It is a sacrifice. It has been one that has proven to have paid off for us thus far. We are very proud of our children, and we have Marquette to thank in helping us instill the values that we believe in.